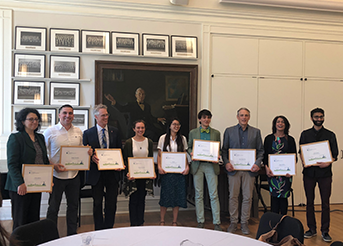 This week the Office of Sustainability hosted the State of Sustainability Awards Luncheon to celebrate the university's progress during the 2018-2019 academic year and honor Yale community members who made significant contributions.
The event opened with a musical piece, Tree Giant, composed by Aaron Levin '19MM, which was inspired by the natural spaces near Levin's grandfather's home. The piece was performed by Amir Farsi, Yale School of Music '19 (flute), Richard Adger, Yale School of Music '19 (clarinet), Matthew Woodard, Yale School of Music '19 (violin), Lucas Oliveira, Yale School of Music '19 (cello), Julia Weiner, Yale College '19 (piano), and Russel Fisher, Yale School of Music '20 (percussion).
Karen Seto, the Frederick C. Hixon Professor of Geography and Urbanization Science and Robert Klee, M.E.S. '99, J.D. '04, Ph.D.'05 and former commissioner of the Connecticut Department of Energy and Environmental Protection, offered remarks on the role of Yale in the city and the state. Seto and Klee both noted the importance of taking urgent action to mitigate the impacts of climate change and highlighted how Yale can be an important partner in driving innovation and implementation in this important endeavor.
Ginger Chapman, Director of the Yale Office of Sustainability, introduced nine members of the Yale community who were honored for their creativity, leadership and dedication to helping Yale build a stronger, more sustainable world. Read more about each honoree, below:
Misha Semenov
Misha Semenov is a dual-degree student at the Yale School of Architecture and Yale School of Forestry and Environmental Studies ('19). His dedication to integrating the built and natural environment is evident from his commitment to numerous groups, including his role as co-founder of Urban Canopy Parklet, LLC, and as the leader of the Yale chapter of Nature Health and Built Environment (NHBE).
Vanessa Correia
Vanessa Correia is a student at the Yale School of Nursing ('19). Vanessa promotes collaboration across disciplines and departments through the "Nutrition that Heals" lecture series, which she started in January 2018. Her dedication to integrating plant-based nutrition into clinical care is beneficial not only for human health, through the reduction of the incidence of chronic disease, but is profoundly beneficial to our shared environment, as plant-based diets are less water and resource intensive than animal-protein diets.
Alan Organschi
Alan Organschi is a Senior Critic at the Yale School of Architecture, and Design Principal at Gray Organschi Architecture in New Haven.  Alan's commitment to integrating sustainable design principles and practices such as the use of salvaged and renewable materials in his design studio courses promises to have a lasting impact on his students, who will go on to be leaders in shaping the built environment in the future.
Maya Prabhu and Miraj Desai
Maya Prabhu, MD, LLB, is an Assistant Professor of Psychiatry at the Yale School of Medicine, a faculty member in the Law and Psychiatry Division, and a supervising faculty member in the Psychosomatic Medicine Division. Miraj Desai, PhD, is an instructor at the Program for Recovery and Community Health of the Yale University School of Medicine, Department of Psychiatry and an associated faculty member with the Climate Change and Health Initiative. With other faculty members, Drs. Prabhu and Desai helped to coordinate a two-day conference in October 2018, titled, "Climate-Induced Displacement: Legal Opportunities and Challenges." Their interdisciplinary efforts bring important conversations about the multi-faceted nature of mental health to the forefront.
Cathy Jackson
Cathy Jackson is the Director of Planning Administration. Cathy has been a leader in enhancing Yale's approach to planning, design, and construction with sustainability considerations. Her role in updating the Sustainable Design Requirements, analyzing efficient space use, supporting storm water mitigation projects and campus tree management among many other efforts, has been pivotal to move the University towards the Built Environment and Stewardship goals within the Yale Sustainability Plan 2025.
Sergio Gonzalez
Sergio Gonzalez is the Operations Manager for Silliman College. In this role, Sergio has been innovative in making Silliman College more environmentally and socially responsible through his support of The Silliman Acorn, the student-run sustainable coffee shop, as well as his work on the development of the Sustainability Action Plans in the residential colleges.
David Evans
David Evans is Professor of Geology and Geophysics and Head of Berkeley College. David was instrumental in prompting the launch the Sustainability Action Plans within the residential colleges. Thanks to his support and encouragement, the fourteen colleges now all have completed Action Plans, which will be implemented next year.
SWAY
Victoria Shirriff accepted the award on behalf of the Sustainable Waste Reduction at Yale School of Public Health student group (SWAY). Victoria's leadership and dedication were instrumental to the group's success this year. After the launch of a sustainable student kitchen at YSPH last year, the group led efforts  to reduce food waste and promote sustainable eating practices.
Congratulations to all 2019 award winners!
Yale is committed to building a more sustainable world. By doing what we do best—integrating science, the humanities, and our community—Yale creates, tests and adopts innovative solutions to the environmental and social challenges we all face.