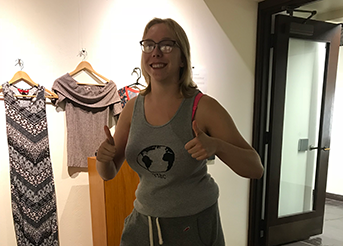 It's autumn, and as many of us have been giving thanks, Yale College students have been giving clothing as well. Students from Ezra Stiles College, Jonathan Edwards College, and 
Bulldog Sustainability
 have launched three unique and innovative initiatives with the goal of reducing textile waste and promoting community engagement with material consumption.
Stiles Style Exchange
During the last two weeks of October, Ezra Stiles' Sustainability Liaison Jamie Chan '22 organized the Stiles Style Exchange, a two-week long in-college clothing swap. The swap served as a creative way to reduce the waste associated with throwing out old clothing while limiting the carbon emissions that come with purchasing new clothing. 
How it worked: Ezra Stiles College repurposed their in-college art gallery to hold a two-week long clothing swap. Students in the college brought their unwanted clothing and had the opportunity to swap it out with clothing left by other students. 
"This is a good way to reduce textile waste and to encourage secondhand goods circulation," Chan  said about the initiative. "Many students like to thrift shop as well, but there aren't many stores within walking distance so I thought this would be a way to bring the experience closer to campus."
The success of the event has inspired similar clothing swaps within 
the residential colleges.
Love It or Leave It Bin
In late November, Jonathan Edwards' Sustainability Liaison Veronica Boratyn '20 created the Love It or Leave It Bin. Placed in the Jonathan Edwards laundry room, the bin allows students to conveniently swap unwanted pieces of clothing; leftover clothing then gets donated to Goodwill. 
The goal of the bin is to  capture textile waste while offering students a way to reduce stress by decluttering their dorms. 
Athletic Clothing Drive
When used clothing isn't swapped or exchanged, Yale College students are working to ensure that it is diverted from Yale's waste stream.
From December 2nd to 10th the Bulldog Sustainability team will be collecting used athletic clothing to reduce material waste of sending clothing to a landfill while supporting the re-use of athletic wear by New Haven community members.
How it will work: Bulldog Sustainability will have bins set up in Payne Whitney Gym, Ray Tompkins House, and 221 Whitney Avenue. Any student or staff member can place their laundered, used athletic clothing in the bin. The contents of the bins will then be donated to Goodwill.
Yale is committed to building a more sustainable world. By doing what we do best—integrating science, the humanities, and our community—Yale creates, tests and adopts innovative solutions to the environmental and social challenges we all face.