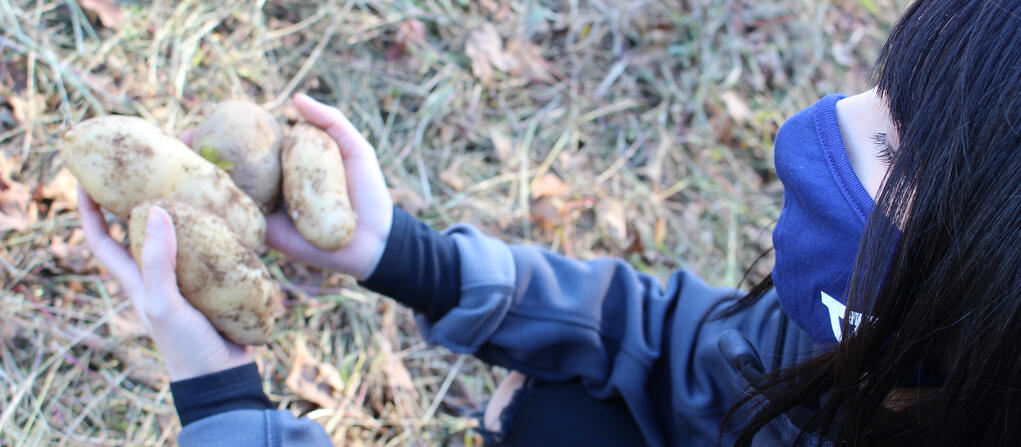 So far this school year, students in-residence have entered their dining halls to find "Apple Week," "Squash Week," and most recently, "Potato Week." Potatoes? Yes, potatoes. While the brown root vegetable might not invoke the feeling of fall, the two novel potato species featured in Yale Dining are the latest evidence of Yale Hospitality's motto, "Better for you, better for the world," in action today. 
Contrary to the popular belief, potatoes are extremely healthy for you! Potatoes are starchy, but  are less calorically dense than both rice and pasta. Moreover, potatoes, composed of 75% water and full of potassium and fiber, are extremely nutrient-dense. Therefore, when the opportunity came via HZPC, the world's leading potato seed breeder, to integrate two "first of their kind" potatoes into the Yale menu, the Yale Hospitality creative team eagerly explored the possibility. 
The two uncanny HZPC potato varieties currently being served by Yale Dining are Maggie and Jennifer. Maggie, with a yellow skin and classic buttery taste, has a fast cooking time that gives it unprecedented versatility in the kitchen. In contrast, Jennifer, with a white skin and "green apple" taste, has a creamy texture and is optimal for frying. James Benson, Director of Culinary Excellence, explains, "As the first of their kind grown in the state of Connecticut, the seeds were developed through traditional breeding techniques which are customized to complement our local growing conditions while producing a high yield crop." More nutritional value than your standard potato AND a unique flavor profile? Yes, please! 
Beyond the versatility of the potatoes themselves, the partnership with HZPC is part of a larger Yale collaboration to help support the local Connecticut community. According to Benson, Yale recognizes that "our farmers and local growers need our support during these challenging times."  In the case of the Maggie and Jennifer potato yield, Yale has been fortunate to utilize the services and grounds of Cecarelli Farms, a family owned farm in Northford, CT.  Though Cecarelli Farms has not traditionally been a potato farm, the farm was deemed a good fit, both by Yale and facilitator, Fresh Point Connecticut, due to its ability to accommodate the high yield HZPC potato seeds. This deliberate planning—both in terms of seed customization itself and the University-distributor-farm relationship—has empowered Cecarelli Farms and allows the farm to "respond dynamically" to Yale's needs, says Benson.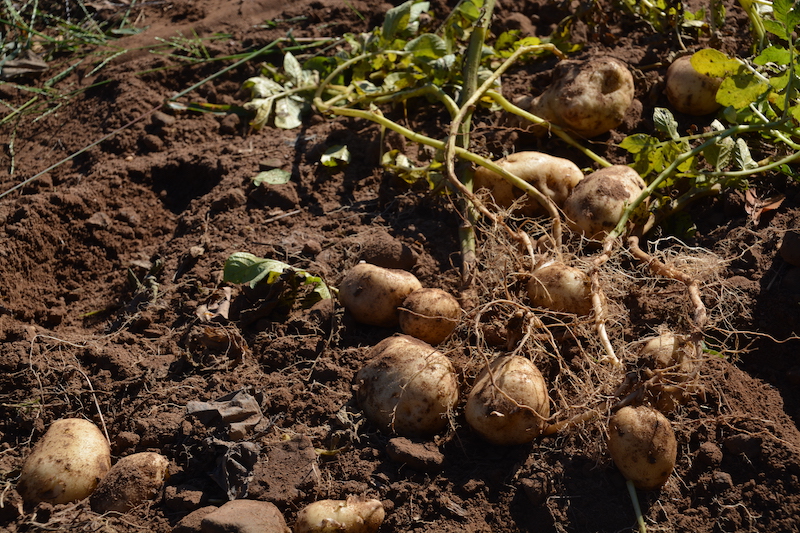 An additional benefit of partnering with a local grower is the exciting opportunity to show to the Yale community just what goes into menu and service preparation. Christelle Ramos, Senior Manager of Marketing & Communications, says "So many people don't think of food sourcing beyond their farmer's market or local grocery store – and it's a unique experience to be able to see how your food is grown and literally harvested from the earth." Sadly, due to health constraints, no students were able to make the relatively short trek to Cecarelli Farms to harvest the potatoes a few weeks ago. Nevertheless, Ramos' team has amplified Yale Hospitality's social media presence in the past weeks to teach students how food is brought from the farm to table. According to Ramos, "The positive student engagement we're seeing as a result speaks to our food literacy influence; impacting the way students think about their food from field to table – and shaping their ability to make informed food choices for today and the future."
Beyond HZPC's yummy potatoes, Yale Hospitality has made sustainable food practices more accessible this school year despite challenges imposed by COVID-19. Leah Beck, Manager of Menu Design, Nutrition QA, says, "We've been able to capture local berries from Rose's Berry Farm (South Glastonbury, CT) to make preserves, and fresh apples from Blue Hills Orchards (Wallingford, CT) and more." In more experiential ways, too, Yale Hospitality has been able to show off its behind-the-scenes creativity. Ramos has dubbed these events "monotony breakers." The latest example was the "Bike Bites" pop-up wagon serving delicious carrot cake samples on Cross Campus. Students enjoyed a yummy treat in a safe environment while also learning about food conservation—the mini carrot cakes featured all parts of the vegetable, from green leaf to orange taproot. 
In this way, local partnerships are making a big impact on Yale Hospitality's modus operandi. Beck says, "We are constantly inspired by the change in seasons and what's available from our growers. This can be seen in our recent recipe innovations during apple/squash/potato weeks. These events provide constant opportunity for our chefs to express their creativity, explore new flavor combinations, and create new and memorable experiences for our community. Likewise, chefs and dining staff have initiated new menu concepts based on student feedback. Chefs take the ideas and elevate them through recipe exploration and innovative pop-up events." Ramos echoes that sentiment saying that when new local produce is introduced at team meetings, calls of "what can we do with it?" are immediately heard around the table.
Clearly, the partnership with HZPC, Fresh Point Connecticut, and Cecarelli Farms is a smashing success, and the entire Yale team is bursting with excitement at the implications. According to Benson, "We don't want to give everything away, but there will be more exciting recipes to come – and potentially a few novelty pop-up items as well!" In the meantime, students can reflect on how local relationships are the hallmark of a "better for the world" framework, as they enjoy the "better for you" yummy seasonal offerings in the dining halls.