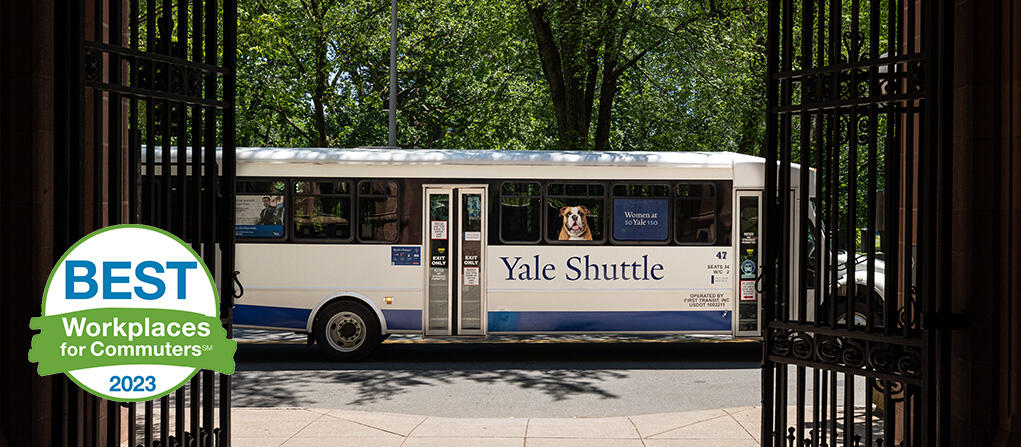 For a seventh year, Yale University has been recognized as one of the Best Workplaces for Commuters in 2023.
The recognition builds on Yale's longstanding efforts to provide premier commuting benefits to all employees that emphasize sustainable transit modes such as carpool, train, shuttle, and bus. Yale is the only workplace in Connecticut awarded the designation in 2023, and one of only three universities in the Northeast to be recognized.
"Yale is one of the top universities in the nation offering high-level commuter benefits to their employees and students," said Julie Bond, Program Manager at Best Workplaces for Commuters. "Yale gives commuters the support they need to get to and from campus and be at their best before, during, and after their workday or school day."
Yale is among a select group of universities in the United States that have achieved the Best Workplaces for Commuters National Standard of Excellence by providing exceptional commuter benefits. Yale offers employees and students several commuter benefit options, including:
The Best Workplaces for Commuters program offers designated universities access to a range of support services to assess and promote non-driving options for those commuting to campus, including organizational assessment and implementation tool-kits, web-based tools and webinars, staff training, and information exchange.
The Best Workplaces for Commuters program, managed by the Center for Urban Transportation Research, recognizes workplaces that encourage American workers to get to and from work in ways that reduce air pollution, improve public health, increase worker productivity, and reduce expenses and taxes for employers and employees. BWC also recognizes telework as a key benefit of a successful employee commuter benefits package.
The Yale 2021 Transportation Survey demonstrated that 65 percent of Yale commuters use sustainable transportation modes, a 7 percent increase from 2015 levels. Following the onset of the pandemic in 2020, the University also saw a 17 percent increase in telecommuting and a 15 percent decrease in single-occupancy vehicle use as compared to 2019 levels. Providing benefits to promote alternatives to driving alone is important to maintaining this trajectory and to achieving Yale's sustainability targets around mobility.
"Yale is proud to be recognized with this national designation as a Best Workplace for Commuters," said Vice President for Human Resources John Whelan. "Facing the urgency of the climate crisis will require us to rapidly embrace more sustainable forms of transportation in our daily lives. Yale is committed to being part of this transformation by providing our employees with robust commuter benefits that support their individual needs and make it easy to choose sustainable alternatives."
Learn more about commuter benefits on the Parking and Transit section of the It's Your Yale website.