Yale's Sustainability Strategic Plan promotes sustainable land development and maintenance within Yale's built environment. To accomplish this goal, Yale's Grounds Maintenance team has recently undertaken three major landscaping projects: the creation of 'urban meadows' on campus to serve as outdoor areas, the incorporation of groundcover in Yale's landscaped areas to mitigate stormwater runoff, and the aeration of Yale's grounds to improve turf health and appearance. These sustainability efforts not only help Yale meet its sustainability goals, but also provides members of the Yale community with opportunities to experience nature in Yale's backyard.  
Urban Meadows
Parks and green spaces are fairly easy to come by at Yale with East Rock, West Rock, and many others located five miles or less from the heart of campus. Thanks to the creation of urban meadows on campus by Yale's Grounds Maintenance team, interacting with the natural environment is now even easier.
A map of the urban meadows directs visitors to the seven meadows on Yale's campus. All are located on Science Hill and take the form of fields or berms. The meadows, which require less upkeep than standard grounds, are only mowed a few times each year. Selective mowing promotes sustainability through:
Increased biodiversity. The addition of natural grasses and wildflowers increases plant diversity, which encourages bees, butterflies, and other pollinators to visit and even live in the meadows. These areas serve as feeding and nesting habitats for migratory birds, and habitats for native flora and fauna to flourish.
Reduced stormwater runoff. More densely vegetated areas improve stormwater infiltration and water quality by reducing runoff and soil erosion.
Improved local air quality. Because mowing regimens are substantially reduced, greenhouse gas emissions from the mowers and weed whackers decrease accordingly. Urban meadows are also known to sequester carbon monoxide and thus improve local air quality in urban areas.
Less pesticide use. Natural flora and fauna, which do not require pesticides or fertilizers to grow, dominate the urban meadows. Less pesticide use corresponds to fewer chemicals in stormwater runoff and local watersheds, improving human and animal health.
Money saved. Urban meadows require less fuel, less operating time, and less manual labor, saving Yale's equipment and money.
Natural laboratory. These spaces allow Yale to become a living laboratory. They provide students, faculty, and staff with a campus-based learning and research environment for ecosystem management and urban planning.
Tweet a photo @YaleSustain when you visit one of Yale's urban meadows!
Groundcover
The Grounds Maintenance team has devoted the past year to expanding the use of planted groundcover on campus.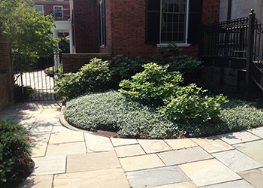 The team recently added about 50,000 plants to improve the appearance and functionality of Yale's grounds. The plants replaced the more common form of groundcover, mulch.
Replacing mulch with vegetation makes Yale's grounds less susceptible to weeds and damage from runoff. It also reduces equipment use and helps keep chemicals out of storm drains. Look for additional groundcover to be planted this fall as this beneficial effort continues.  
Soil Aeration
Have you ever wondered where the wads of soil on Yale's grounds come from? Those plugs of soil are a product of aeration, another form of sustainable landscape maintenance.
Aeration improves the health and appearance of Yale's grounds, and helps to alleviate compacted soil while also allowing water, air, and nutrients to reach plant roots where they can best be used to promote vigorous, resilient growth. Coring and solid tine aeration help create healthy, robust turf.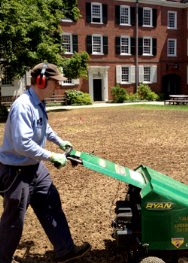 Core aeration removes plugs of soil, which are then reincorporated into the turf canopy. Core aeration reduces soil compaction and rebalancing the soil mixture for optimal plant growth, improving drainage and air exchange. This aggressive form of aeration is most effective when plants are actively rooting.
Solid tine aeration produces a hole in the soil without removing any material. As with core aeration, solid tine aeration helps improve drainage and air exchange, allowing the turf to grow more efficiently. Since no cores are removed, there is virtually no clean up needed, and the turf can be used immediately after aerating. This less stressful method is performed throughout the growing season, effectively improving water infiltration and air exchange without taking the turf "out of play."
Yale's Grounds Maintenance uses both coring and solid tine aeration techniques on campus. This creates thick, resilient turf that is less susceptible to disease and requires less water and nutrients to thrive.
Maintaining aesthetically pleasing, functional, and healthy grounds is no small task. Doing so requires a lot of practice, research, strategic planning, and hard work from Yale's Grounds Maintenance. As we enjoy the fruits of their labor, we should make sure to be good stewards of our backyard and respect Yale's beautiful green spaces.