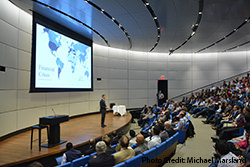 As investment managers develop strategies to hedge climate risk, MBA students are following suit—and soon may be leading the charge.
In response to a growing divestment movement, expectations of a future price on carbon, physical risks like widespread coastal flooding that are caused by a warming climate, and client concerns over socially responsible investing, the Yale Responsible Investing Group and the School of Management will host the Inaugural National Low-Carbon Portfolio Case Competition on Friday, November 14.
"Because climate change poses systemic risk to investment portfolios that is unavoidable through diversification, today's forward-thinking investment managers are looking for strategies that minimize risks without compromising performance," said Gavin Fernandes, SOM '15, the competition's communications director.  
Eleven teams of finance students from US and international MBA programs will share models of reduced-carbon investment portfolios and compete to win $10,000, in addition to an opportunity to pitch their solution at the Commonfund Forum in March 2015. 
MIT Sloan, Chicago Booth, NYU Stern, Cornell Johnson, Maryland Smith, UT Austin McCombs, and EGADE from Monterrey, Mexico, are the MBA programs to be represented at the contest. Yale School of Management and others have multiple teams entered in the competition. 
The teams were challenged to develop a roadmap to reduce the carbon intensity of an institutional investment portfolio prepared by the School of Management's Director of Case Study Research Jaan Elias while meeting performance standards for financial returns, liquidity, and risk. The teams' resulting portfolios will be evaluated by a panel of judges on their potential impact on climate change and expected performance. 
The event will also provide an opportunity to engage with thought-leaders through panels featuring: Bob Litterman, Chairman of Kepos Capital and former Chief Risk Management Officer of Goldman Sachs; Verne Sedlacek, President and CEO of Commonfund; and Nancy Pfund, Managing Director of DBL Investors. 
"How climate change impacts investments is a critical issue that we must address," said Yonatan Landau, SOM '15, one of the competition's co-directors who also will be moderating a panel. "We hope this competition will surface new ideas about responsible investing in a big way."
For more information, visit the event page. 
To learn more about the Yale Responsible Investing Group, click here.