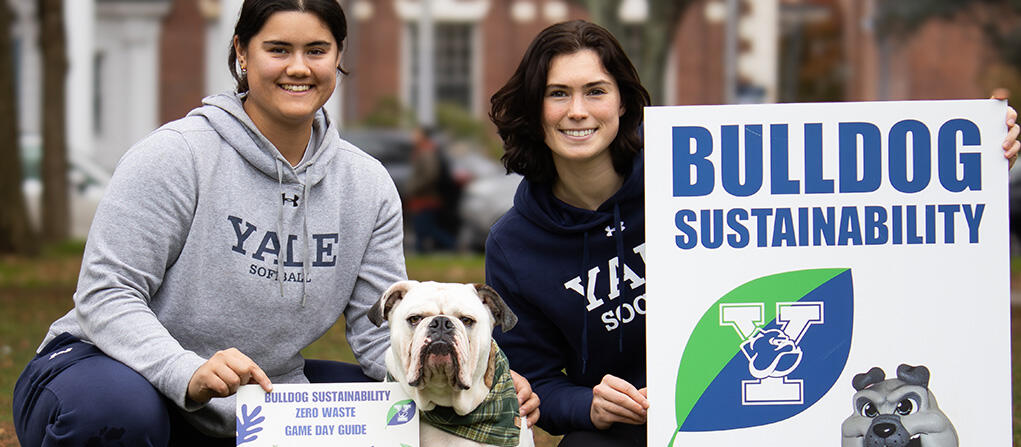 Photo by David Liebowitz '26
Few events at Yale generate as much excitement as The Game—or as much waste.
The Yale-Harvard football classic—hosted at Yale Bowl this year, on November 18—is expected to draw thousands of fans and tailgaters, and with those crowds a copious amount of trash and recycling.
Disposed of correctly, these remnants of revelry end up where they belong: garbage incinerated to create energy, recycling repurposed to make new products. But when the two are mixed improperly, items end up having to be trashed needlessly.
With that in mind, a group of Yale student athletes is encouraging fans to sort it out at this year's Game. Bulldog Sustainability, a student-athlete organization overseen by the Yale Office of Sustainability, has launched a campaign called "Put Waste in Its Place"—deploying posters, Instagram messages, and a video featuring two Yale football players as spokespeople.
"We are calling our community to action and asking everyone to be cognizant of their choices and aware of where they are placing their waste," says Willa Ferrer '24, a Bulldog Sustainability rep and member of the Yale softball team. "Fans can take action by using reusable items when possible, recycling, and holding onto trash instead of littering. We aren't aiming for perfection but instead asking all those attending Yale sporting events to do their best!"
Specifically, the Bulldog Sustainability reps offer these reminders:
Food-contaminated waste goes in the trash.

Recycling is single stream, meaning all recyclable material goes in a single bin.

Around the perimeter of the stadium, redeemable bottles and cans should go in specially marked EyeRecycle bins.

Make sure recyclables have no food or liquid residue.

Composting is not available at Yale Bowl. Food waste goes in trash.

Don't litter – hold onto trash until you find the proper receptacle.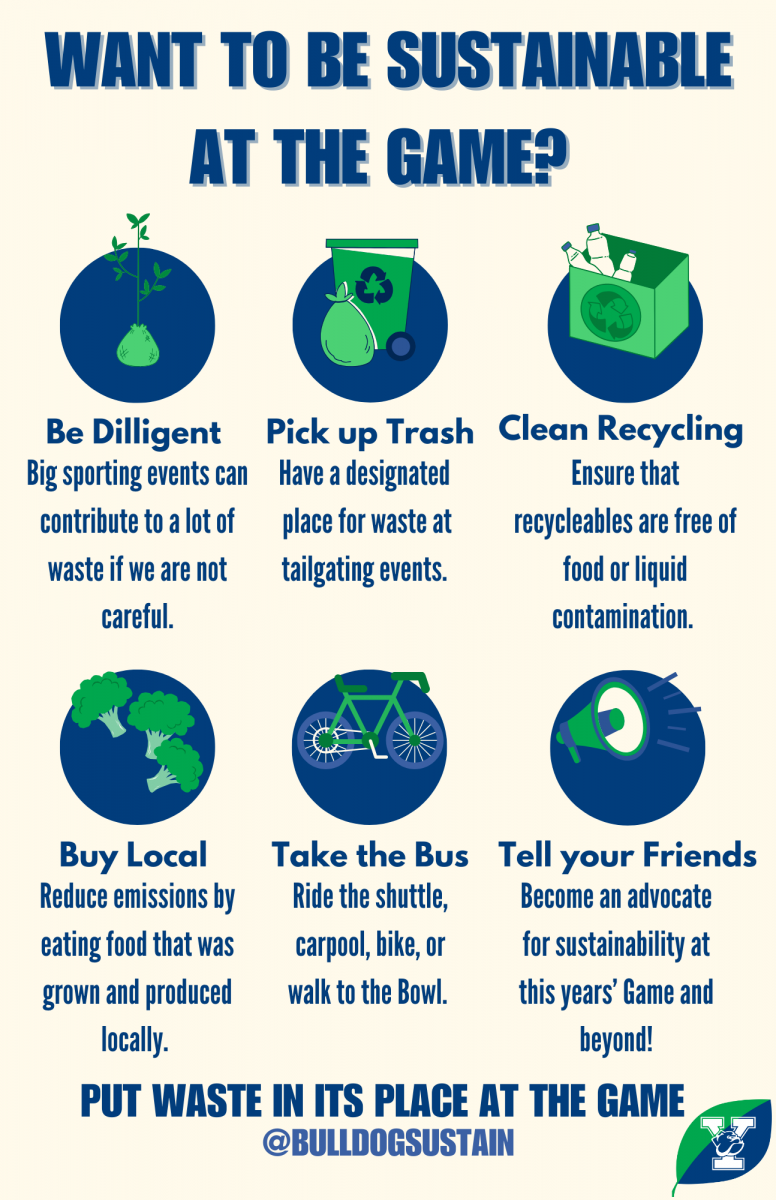 Raising awareness about gameday waste is nothing new for the Bulldog Sustainability program, which launched in 2008. As it has for years, the group last fall conducted a series of "waste audits" at sporting events to better understand waste disposal habits and make recommendations for improvement.
With help from the Office of Facilities, the athletes suited up in protective gear and sorted through trash and recycling at three Yale athletic events in fall 2022 to examine waste disposal, explains Hannah Turner '25, who is also a softball player.
Over those three Yale home games, the waste audits revealed a trash contamination rate of audited recycling that ranged from 33% to 66%—meaning that as much as two-thirds of materials discarded into recycling bins was actually trash. Conversely, the rate of recyclable items placed incorrectly into the trash ranged from 2.4% to 22%.
Based on the waste audit data, Bulldog Sustainability developed educational goals about single-stream recycling rules, food contamination of the waste stream, and how to recycle plastic bottles properly and shared those recommendations with Yale Athletics.
Vicky Chun, the Thomas A. Beckett Director of Athletics at Yale, applauds the student athletes' leadership and encourages all fans attending the Game to respect Yale's culture of sustainability.
"Hosting the Game is a highlight of Yale's athletics calendar and we want to make sure that everyone celebrates responsibly by taking simple steps to put trash and recycling where they belong," says Chun. "Small individual actions add up and we want the Game to serve as an example of how the Yale community can work together to tackle big environmental challenges."