The Yale Office of Sustainability has a team of over 30 student assistants who are undertaking projects across campus to further goals in the Yale Sustainability Plan 2025. At the end of last semester, the student assistants presented on their accomplishments, progress, and next steps to members of the Yale community.
Through projects that span a wide range of areas from providing research for a campus biodiversity plan to operational energy surveys, students have multiple opportunities to get involved and gain hands-on experience.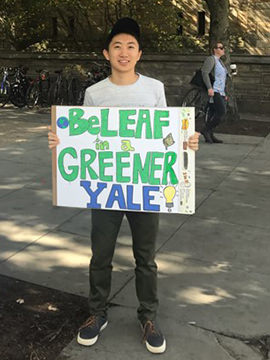 Several student assistants work to foster a diverse and inclusive sustainability movement. As the Cultural Center Liaison, Lekha Tlhotlhalemaje YC '19, collaborated with the Black Student Alliance at Yale and the Yale Student Environmental Coalition to bring Majora Carter to campus. Lauren Kim, YC '20, is helping to create a survey to understand sustainability knowledge, behaviors, attitudes, and values of the Yale community that will be administered this fall.
One of the teams, Bulldog Sustainability, works to develop more environmentally responsible athletic programs. One highlight they mentioned was expanding Green Team Certification, a program that awards athletic teams for sustainable behaviors. In addition to varsity teams, the program was offered to select club sports.
The Sustainability Service Corps (SSC), works to expand the culture of sustainability in Yale's residential colleges, focusing on campaigns, energy efficiency, and materials management. During fall semester, SSC completed over 10 projects including two canvassing events on Cross Campus, energy surveys of Becton Center and Hendrie Hall, and two materials management awareness campaigns.
SSC's Energy Squad, in partnership with Yale Hospitality, will be undertaking a project this semester to raise student awareness around carbon footprints. The team will calculate the carbon emissions associated with dining hall food choices and place the information above the menu items.
Similarly working to lower carbon footprints, Joe Battles YC '18, has been updating the Yale Community Carbon Fund, a tool that allows Yale community members to calculate the climate impact of various activities and mitigate the effects.
"It has been very interesting to work at the intersection of environmental science, design, and computer science, and to see how a website is built and the decisions that need to be made in the process," said Battles.
Several students presented on projects related to Yale scholarship. One project aims to facilitate interdepartmental collaboration on urban studies while another aims to provide a comprehensive view of class schedules to inform efficient space use. Several students are looking at how Yale teaching and research aligns with the 17 United Nations Sustainable Development Goals to help further multidisciplinary collaboration. The student assistants hope to have a full dataset complete by the end of February.
Student assistants are also conducting preliminary research for campus landscape standards, a campus resilience plan, and a campus biodiversity plan. Through this research, a novel structure has been proposed for the biodiversity plan—one focused on ecosystem function rather than the standard protocol of structuring around habitats and campus units.
John Bollier, the associate vice president for Facilities, was in attendance and expressed support for the students' efforts. "Your work helps us to view campus in a more holistic way, connecting concepts around campus planning, biodiversity, and mobility." said Bollier.
Other project areas include creating an inventory of electric vehicles, supporting the new bikeshare program, providing insight for the Yale Carbon Offsets Taskforce, analyzing paper materials flow at Yale, and advancing more sustainable practices in clinical spaces.
Yale is committed to building a more sustainable world. By doing what we do best—integrating science, the humanities, and our community—Yale creates, tests, and adopts innovative solutions to the environmental and social challenges we all face.