As sure as dogwoods in May, springtime at Yale means the blooming of unwanted clothes, furniture, and housewares that pile up as undergraduates move out for summer.
Since 2005, Yale's annual student move-out has been met by another rite of spring: Spring Salvage, the large-scale waste diversion effort coordinated by the Yale Office of Sustainability. Each year, Salvage collects and donates some 30 tons of belongings to Goodwill of Southern New England, giving the items new life and diverting a mountain of material from the waste stream.
After a two-year hiatus due to the pandemic, Spring Salvage returned in earnest this year, buoyed by a crew of yellow-vested student workers, Yale Facilities staffers, and contracted workers, all joined in a carefully choreographed operation.
This year there was a student-led food drive held alongside Spring Salvage, coordinated by Yale undergraduates David Foster '22 and Nicholas Perez '24. That drive collected more than 600 pounds of nonperishable food and personal hygiene products for Downtown Evening Soup Kitchen at a time when inflation is driving up the cost of everything and putting further pressure on vulnerable communities.
"Spring Salvage is a win-win for our communities," says Maria Gutierrez, Yale's Sustainability Engagement Manager, who coordinated Spring Salvage. "We are able to redirect literally tons of clothing and household items to new homes where they are needed. The food drive was a fantastic addition this year that will support our neighbors in need. I am grateful for the hard work for all those who made this year's Salvage and food drive a success."
Spring Salvage Returns
Under brilliant blue skies on a recent afternoon, two Spring Salvage student volunteers navigated an empty wheelbarrow through the iron gates of Silliman College. Just inside they found overflowing bins where students deposited "soft stuff" (clothes, shoes, bedding) and "hard stuff" (books, housewares, sports equipment).
Student workers Gonna Nwakudu '23 and Xander Calictan '25 emptied the bins into their cart, a ritual performed up to three times a day at each of the dozens of drop-off locations during the height of student move-out.
Tipping one collection barrel onto its side, the students carefully extracted an impossibly overstuffed garbage bag of used clothing. Along with more common items, Nwakudu says they found some unusual things like an old cash register and a barely used laptop stand.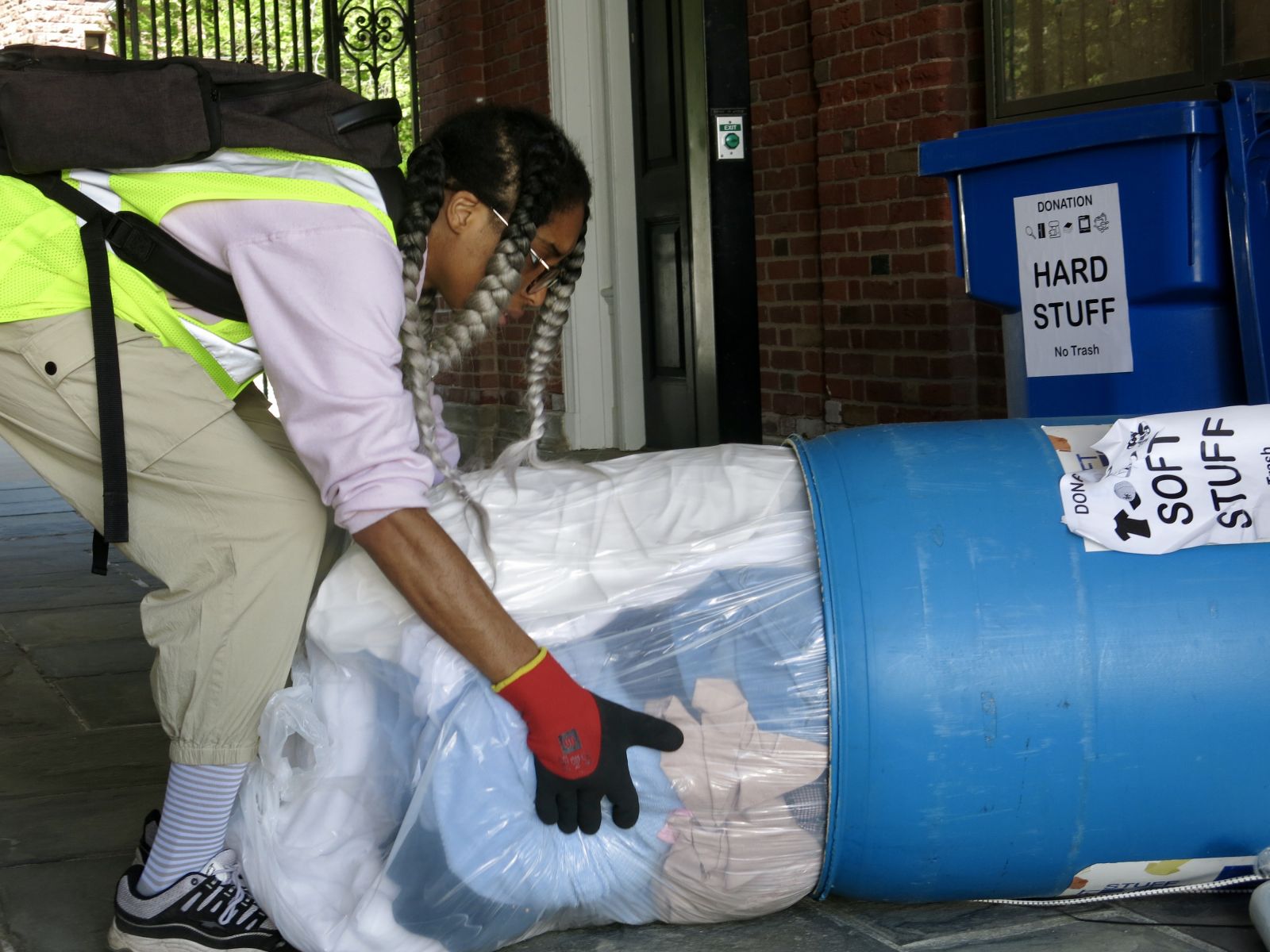 Carefully wheeling their teetering load onto the sidewalk, Calictan delivered the goods to a waiting tractor trailer, where it was heaved inside. Before long, the trailer's cavernous hold would be stuffed full of donated possessions.
"It makes me think about how I will pack," says Nwakudu, who was so busy with Salvage duties that she had not yet boxed her own belongings. "I've always been as bare bones as possible, but this has made me think, will I have use for everything I pack? What things will I donate?"
This Salvage scene, so familiar over the past two decades, was all but absent for the past two years thanks to COVID-19. When campus abruptly closed in 2020, and students did not return from March break, their personal belongings were boxed for storage or shipped home. Last year's event was scaled down. The return of Salvage this year marked an important return to programming that helps the University work toward reaching waste diversion goals.
Spring Salvage is one of the biggest waste diversion events of the year and supports a primary ambition of the Yale Sustainability Plan 2025: to divert 60% of the University's waste by 2024 while maintaining or reducing the overall amount of waste produced annually since 2017. Even as Yale's student body has increased, the percentage of materials diverted from the waste stream through Spring Salvage has increased from 30% in 2018 to 42% in 2019.
This data visualization shows the amount of waste and salvage collected, in tons, between 2014 and 2019. Right click the green portion of any bar and select "drill through" to see a detailed breakdown of salvage collected for that year.
Other work to support the University's waste diversion goal includes increased awareness of recycling best practices, increasing opportunities for reuse, assessing waste data technology, and an exploration of emissions associated with purchased goods and services and with waste.
While a complete accounting of this year's Salvage haul won't be finished until June, Gutierrez, the Sustainability Engagement Manager, says this year's Salvage ran smoothly, even as the University juggled the logistics of hosting an additional commencement for alumni who graduated in 2020 and 2021.
Diverting Food Waste to Neighbors in Need
David Foster '23 first got the idea for a student-led food drive at Yale while preparing to fast for Yom Kippur in 2019.
"I hated the fact that my meal swipe was going to go to waste," recalls Foster, who serves as Sustainability Liaison for Grace Hopper College. So he made a plan to use his own meal credits at the campus convenience store in Durfee Hall to buy canned tuna, pasta, and cereal, which he donated to a New Haven soup kitchen.
He thought others might enjoy doing the same, so he set up a sidewalk collection booth and worked with the Joseph Slifka Center for Jewish Life at Yale to advertise his impromptu food drive.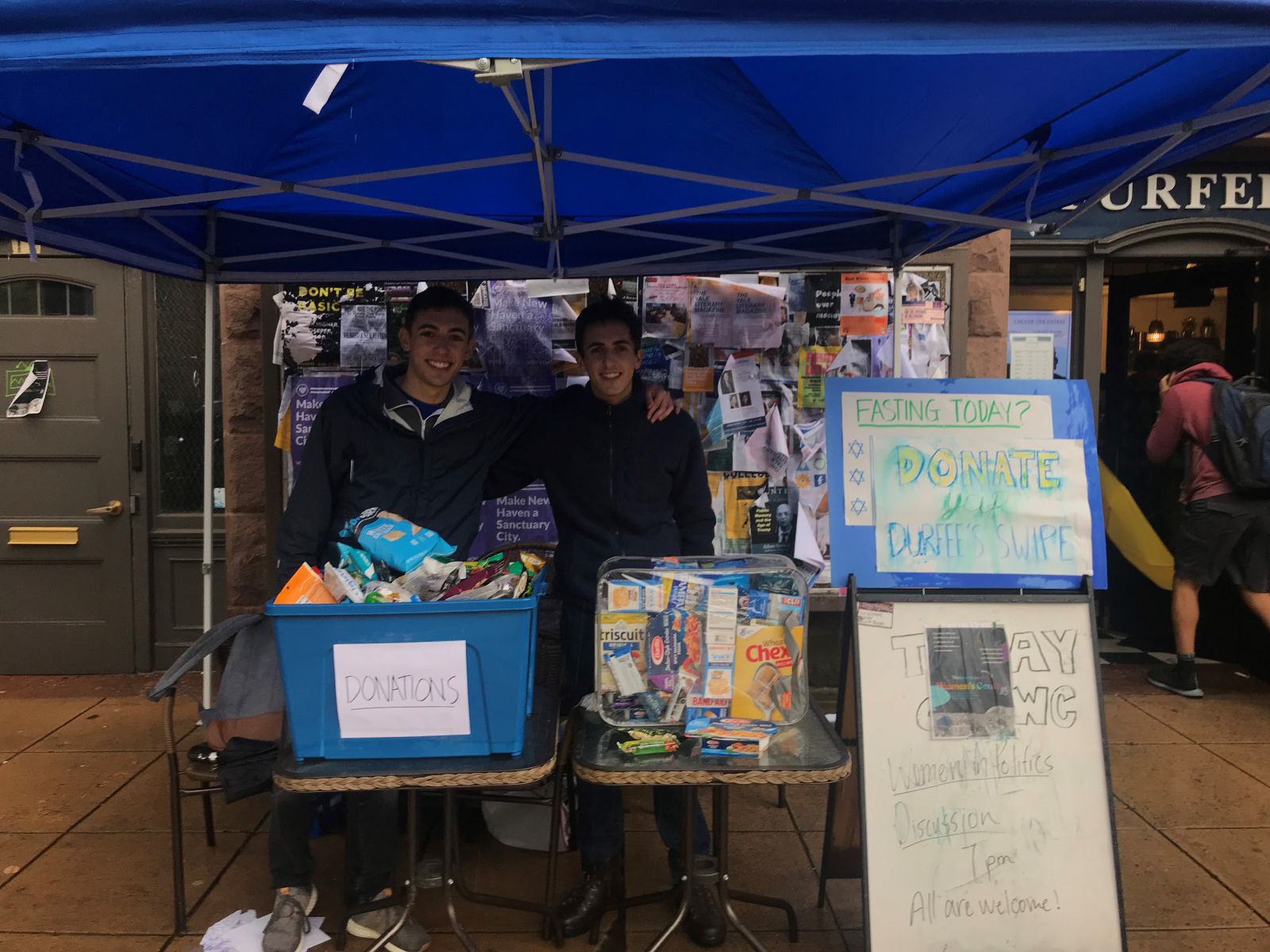 In a single afternoon that year, Foster collected 332 individual items, around $1,000 worth of food, which he donated to Downtown Evening Soup Kitchen.
"People really enjoyed it and I always thought it was good to get people into the habit of enjoying donating," Foster says. "Because today you are donating a bar but if you become a millionaire someday, perhaps you'll carry that habit with you and you can donate a little more than a bar."
In spring 2021, Foster returned to campus after a pandemic hiatus and met Nicholas Perez '24, then the Sustainability Liaison for Jonathan Edwards College, who had organized a drive to collect and donate "isolation food" that students had amassed during lockdown and no longer needed. A volunteer with the Yale Hunger and Homelessness Action Project connected the two students, and they decided to work together on a food drive to coincide with Spring Salvage in 2022.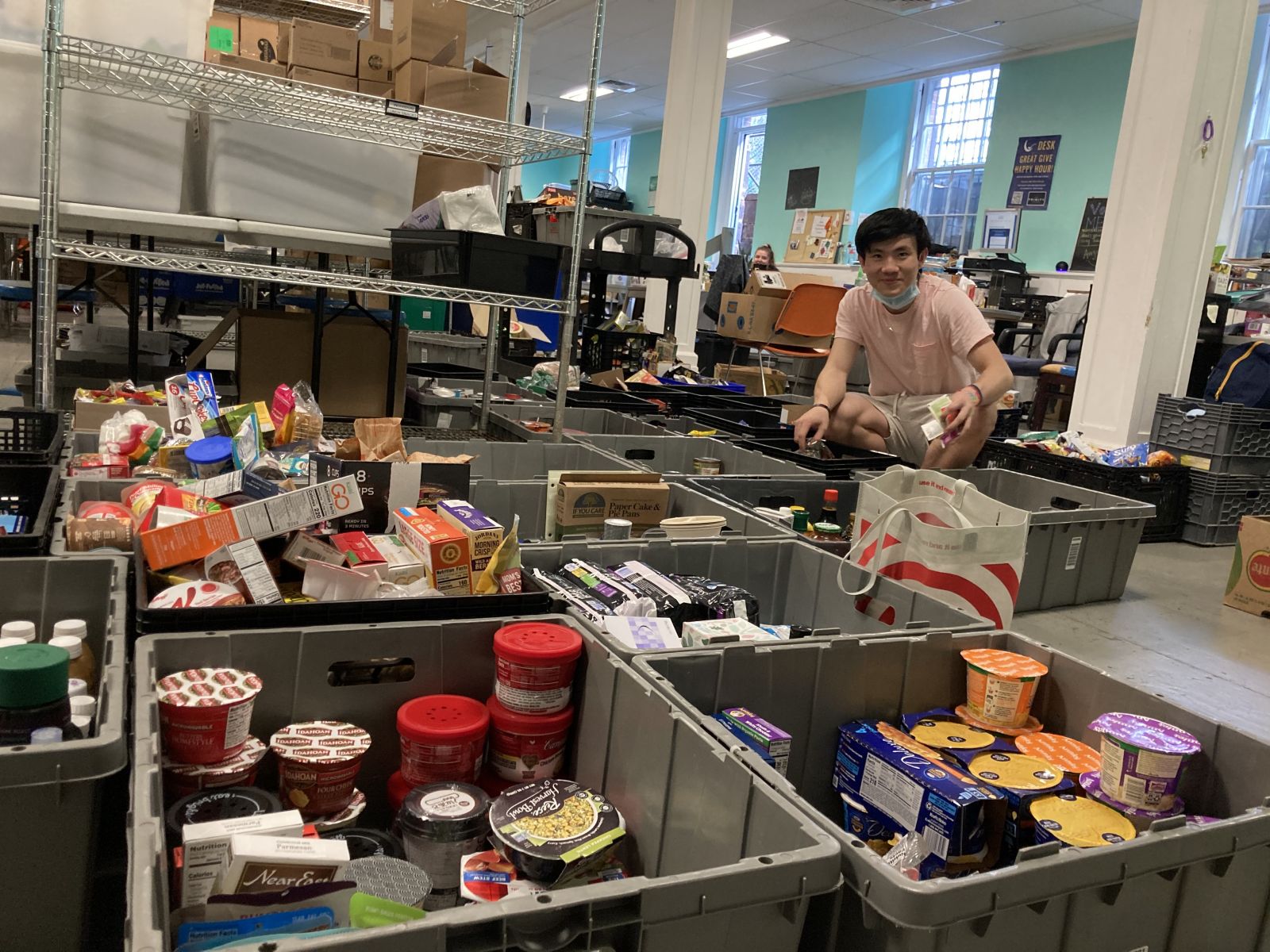 With support from Maria Gutierrez from the Office of Sustainability, the two undergrads put out a food collection bin at each of Yale's 14 residential colleges and, in a single week earlier this month, amassed 654 pounds of nonperishable food items and hygiene products that might have otherwise been thrown away.
Foster and Perez kept detailed data on every Clif bar, Ramen pack, and bottle of Purell that was donated in the hope it will form a baseline for what becomes a yearly student-run food drive. In total, students this year donated food and hygiene products in numbers far exceeding the two previous years.
Meagan Howard, the Kitchen Manager at Downtown Evening Soup Kitchen, worked with Foster and Perez to coordinate the donation and says the food was enough for approximately 500 meals. "David and Nicholas planned every step of the process, from setting up their boxes and sending out notices, to coordinating pick up spots around campus, all the way up to weighing and sorting the donations," says Meagan. "We are so grateful to have their support and dedication."
For Foster, the food drive is simply an expression of his distaste for waste, and its success this year inspires him to go further.
"Being behind the gates and stone walls, next to the New Haven Green, it's so clear that more needs to be done," says Foster. "It's just another reminder of the city we live in and the inequalities that are so obviously right outside our walls."