Thanks to Yale's cohort of Sustainability Liaisons, the challenges of the fall 2020 semester did not halt the pervasive student culture of sustainability at Yale.
Launched in 2019, the Sustainability Liaison program empowers a cohort of undergraduates from each of Yale's fourteen residential colleges to implement Residential College Sustainability Action Plans. These plans outline a series of ambitions and tasks which allow the Liaisons and their Operations Managers to promote a culture of sustainability within their own residential community while advancing institutional progress towards the university-wide goals in the Yale Sustainability Plan 2025. While the Action Plans were carefully customized to align with the distinct culture and context of each of the residential colleges, the safety guidelines necessitated by the COVID-19 pandemic posed potential challenges to their implementation. 
In her first semester as a Silliman's Sustainability Liaison, Verenice Torres approached the circumstances with excitement and innovation, channeling her passions into new projects and programs. "This semester was really about working our way around the restrictions and finding ideas that were small but very impactful," Torres (Silliman '21) says.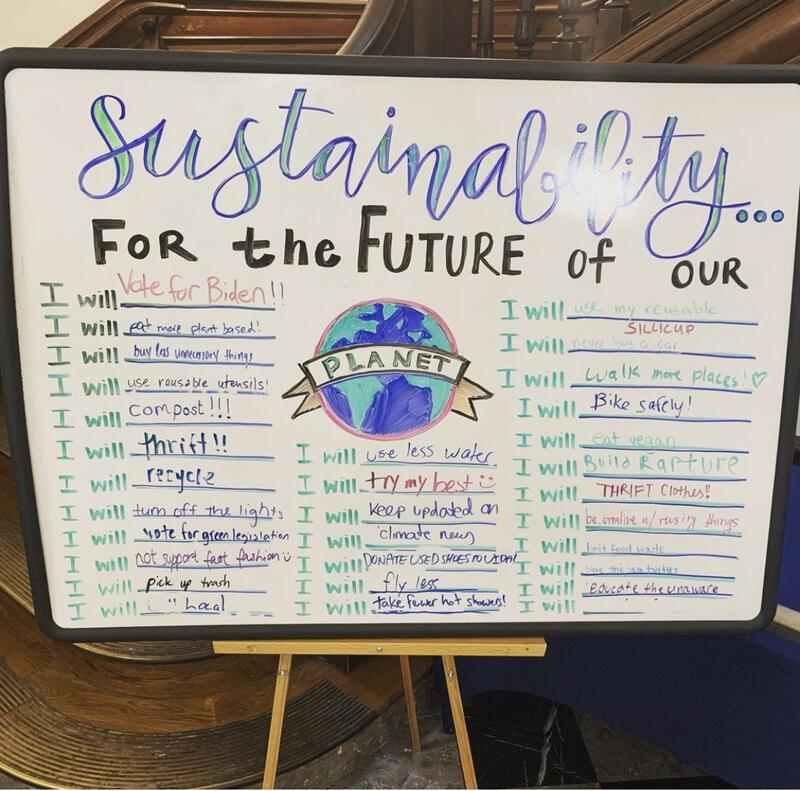 During a time when social connections were strained or all together limited, Torres recognized that social sustainability needed to be a part of her work – especially for First Years. 
Despite living remotely, she continued curating the Silliman Sustainability Taskforce, an in-college group of students working together on college-specific sustainability projects. First Years were warmly invited to join this community centered on sustainability within Silliman, many of whom ended up taking leadership roles within the on-campus work that Torres, studying remotely, could not take on. 
"There was a lot of excitement in First Years to really focus on sustainability, and the good thing is that the First Years were on campus," Torres says, giving special thanks to Jesse Roy, Cathleen Liang, and Mishael Saah. "They could help me carry out on-campus projects or keep an eye on in-person sustainability challenges that we needed to address… I give a huge kudos to them, because I couldn't have completed this semester without them."
Following this spirit of community building around sustainability, Torres worked to ensure that all of Silliman's sustainability ideas, programming, and initiatives were inclusive of students living on-campus or studying remotely. 
For five days, Torres encouraged students to think about sustainability as individuals and as a community using the action-oriented theme of sustainable consumption. For the duration of the week, students were encouraged to take a 7-day vegan pledge, after which they were rewarded with vegan cookies, which they picked up with reusable containers to limit the amount of waste generated. In coordination with her Taskforce, Torres organized the distribution of items like reusable utensils, mugs and succulents. The team also set up a socially distanced space in Byers Hall to write sustainability goals and pledges on a community whiteboard. The week culminated in a "No Impact Hour," during which students were encouraged to turn off all electronic devices—lights, computers, phones—for a full 60 minutes to consider the impacts of energy consumption and the relationship between sustainability and mental health. 
"The work of Liaisons during challenging semesters like these is the silver lining for the mental hygiene of our college community," Torres says. "Sustainability and self-care can go hand in hand; by decluttering our lives and owning less we can live in abundance and hone in on what genuinely adds value to our lives. By refusing to succumb to the consumerist culture we are plugged into, advertising false happiness to us, we also reject the corporations that are responsible for resource depletion and greenhouse gas emissions. One of my priorities was and will continue to be to relay that message to my residential college community as much as possible, as well as the idea that taking a digital detox and restoring our connection with nature brings us the peace we need amid the exigencies of school and work, which are only heightened during a global pandemic."
Torres's efforts not only communicated Yale's commitment to sustainability to First Years but also to the extended Silliman community.
"I tried to offer something fun and unique that both students who are on-campus or enrolled remotely like me could still participate in," Torres says. "For example, No Impact Hour and the week-long vegan pledge saw participation from students living everywhere, and that was really encouraging…. Creative sustainable initiatives are also a refreshing and exciting change for students fatigued by Zoom and other situational obligations, and it is important to amass this support to ensure that sustainability remains at the forefront of new developments as we reimagine a new normal." 
While the COVID-19 pandemic altered dining patterns and restricted the ability to reuse certain items, Torres found every opportunity to educate her peers about reducing, reusing, and recycling where they could. With the help of her Sustainability Taskforce, Torres supported the implementation of the new materials management streams in the college courtyards while also promoting minimalism in email newsletters.
As we enter 2021 in another semester of pandemic restrictions, Torres is nothing but encouraged and inspired. In the spring 2021 semester, she has plans to continue pursuing her passion of mitigating food waste. Working with the Yale Student Environmental Coalition, Torres hopes to pilot a partnership to offer supplemental organic food and non-food waste compost services to students in residential colleges and those living off-campus in New Haven.
"I was inspired by the work of my fellow Liaisons and how they were able to think of creative ways of tackling such a challenging semester entailing systematic changes that balked sustainable efforts," Torres says. "It is also motivating to know that they achieved so much in this role during a time that troubled the entire community, including themselves. I am hoping to collaborate more with them this term now that I will be on campus."
Torres and her cohort of Sustainability Liaisons will kick off the spring 2021 semester with on-campus and remote projects centered on Equity and Environmental Justice, followed by monthly themes of Health & Well-being, Stewardship, and more.