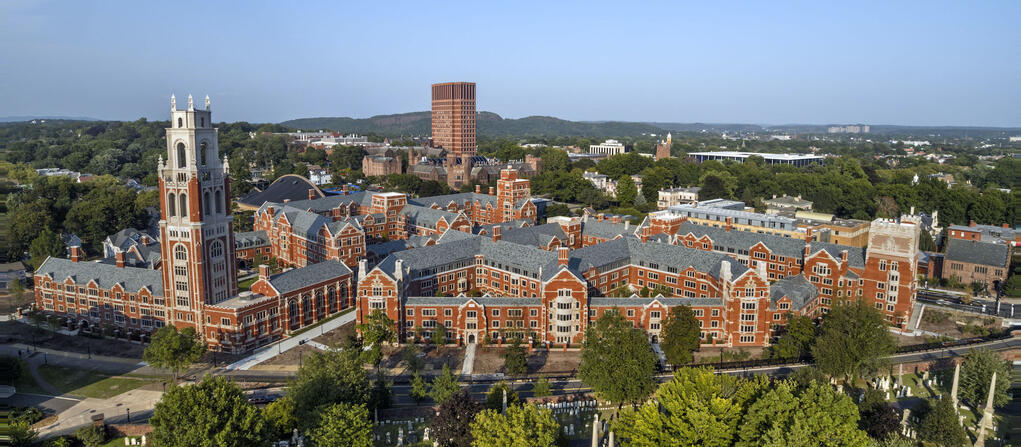 As part of the Yale Sustainability Plan 2025, Yale has committed to buildings that provide healthy living and working environments for the Yale community. Since 2010, Yale's Design Standards require that all comprehensive renovations and new construction achieve LEED Gold certification as a minimum standard. Yale's Sustainable Design Requirements also address smaller scale projects to ensure that they incorporate sustainable attributes. Since 2010, Yale has invested $1.3 billion towards projects that meet these requirements.
Yale's commitment to sustainability of the built environment was most recently exemplified as Pauli Murray and Benjamin Franklin Colleges officially achieved LEED Gold Certification this fall. The LEED Certification recognizes performance in six key components of human and environmental health: sustainable site development, water savings, energy efficiency, material selection, indoor environmental quality, and innovation in design. Built with the LEED Gold certification requirements in mind, the colleges have many sustainable features, including geothermal wells for heating and cooling, water-efficient fixtures, and infiltration systems for stormwater management. 
Serving as a model to peer institutions and construction projects of any scale, these on-campus efforts positively impact a sector that is one of the biggest contributors to climate change. "This achievement is the latest milestone in Yale's ongoing commitment to sustainability of the built environment," said John Bollier, Yale's Vice President for Facilities and Campus Development. "The entire project team collaborated to use cutting-edge design and construction practices to help this project meet its sustainability goals, and we hope that this inspires its students to continue building Franklin and Murray's green legacy together."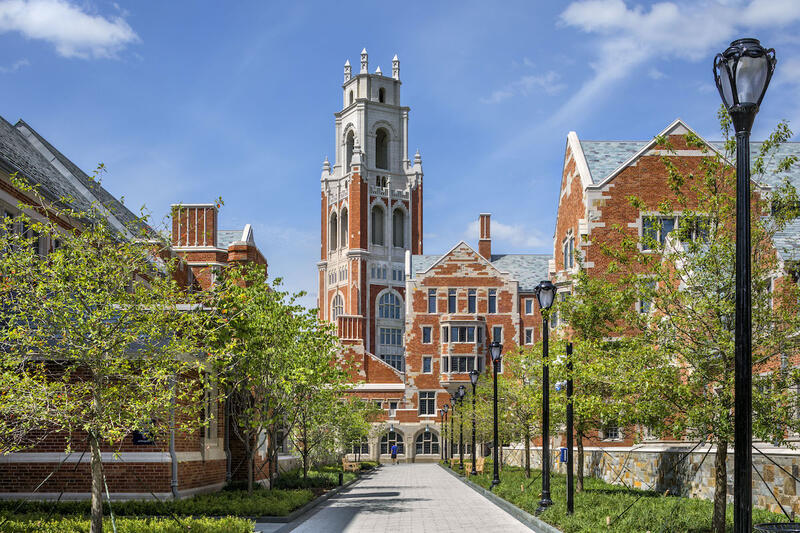 The construction of the building maximized sustainability efforts, with 99% of the wood used in the construction certified by the Forest Stewardship Council (FSC). In fact, the wood floors in the dining rooms, libraries, and common rooms were
all sourced from Yale Forests
, which are among the oldest sustainably managed forests in the nation. Approximately 11% of materials, including 100% of the stone, came from within 500 miles of the project site, and 94% of construction debris was recycled. The dual flush toilets, motion-sensing faucets, low-flow showerheads, and drip irrigation installed in the colleges contribute to an anticipated 21% reduction in water use relative to the average building using EPA's baseline water fixture performance requirements. Overall, there is an estimated annual energy savings of 32.4% due to efficient building systems incorporated at the colleges.
Sustainability is becoming more important in higher education, as students increasingly value and expect universities to adhere to sustainability standards. Ana Sera, an Associate Sustainability Consultant at BuroHappold, helped develop an integrated sustainability strategy for Franklin and Murray that aligned with the
Yale Sustainability Plan 2025
and steer the project toward LEED Gold Certification. When reflecting on this project, she highlighted the gravity of sustainability initiatives in universities.
"Higher education institutions are largely seen as a leadership sector in terms of integrating sustainability into their design and operations," Sera said. "Furthermore, colleges and universities with strong sustainability commitments have been proven to better attract students/talent. Approximately 64% of students choose a school based on their environmental commitments."
The design of the buildings not only positively contributes toward Yale's sustainability goals, but also impacts the wellbeing of the students who live there. 
"Building with sustainability in mind has a profound impact on the lives of visitors and residents as it impacts the quality of life and learning conditions that students are faced with," Sera said, adding that factors such as improved indoor air quality, thermal comfort, and access to adequate daylight encourage optimal learning. "Studies show that cognitive performance is improved when we have access to fresh air and good indoor air quality. Students spend roughly ninety percent of their time indoors, so improving student health and wellbeing by optimizing conditions in the indoor environment leads to reduced sick days and class absenteeism."
In response to the news about the college's LEED Gold Certification, Annabel Remudo, Pauli Murray's Sustainability Liaison, reflected with pride and optimism. 
"I am always proud to be a member of the Pauli Murray community, but this achievement makes me especially grateful to have lived in my college," Remudo said. "Murray and Franklin are setting great examples in the push for a more sustainable future for Yale."