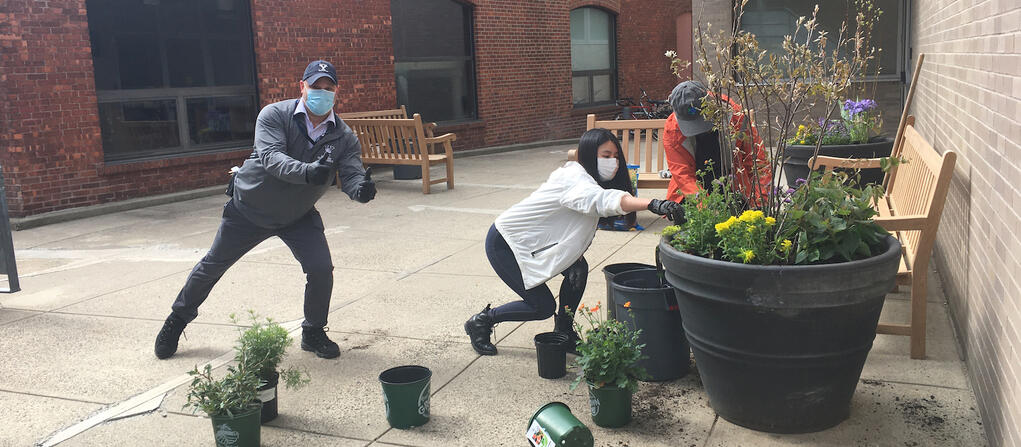 COVID-19 has severely curtailed the ability for students to gather safely. Yale has taken extraordinary measures to protect its students, including frequent testing and takeout meals. Now more than a year into the pandemic, isolation has taken a huge toll on students' well-being. With the weather improving after an especially difficult winter, students crave both sunshine and social interaction, both of which are scientifically shown to improve mental health. With the generous support of Joe Signore, Supervisor for Yale Landscaping and Grounds Maintenance, students, Grounds Maintenance Staff, and the Yale Office of Sustainability collaborated to launch a new outdoor green space at 353 Crown, open to Art and Architecture students, to encourage safe gatherings.
The pandemic was not the sole motivation for this space; in 2015, School of Art student George Carr '16 drew up the original design, but budget constraints paused the project. In Fall 2020, first-year Art student and Sustainability Fellow Miguel Gaydosh independently imagined and initiated the project. For him, "initiating these kinds of…spaces for people and different forms of life to meet and interact is really important," so when proposing the green space build to Professional Schools Sustainability Fellow, Nivanthi Karunaratne (School of Music '20), Gaydosh was inspired to collaborate with other student fellows. 
Thus began a partnership with School of Architecture Sustainability Fellows Caroline Kraska and Ben Derlan, respectively second- and first-year Master of Architecture I candidates, and Yuyi Shen, a first-year Master of Architecture II candidate. The students determined that, as a nod to the intersection of planetary and personal well-being, they would use reclaimed materials to build furniture for the space and include native, pollinator plants.
However, logistical challenges remained, both materially and financially. When then-Deputy Director Melissa Goodall connected the four fellows with Joe Signore, he immediately offered benches, planters, soil, plants, and staff support—in addition to his own expertise on native plants and ideas like a solar-powered irrigation system. And thus, on March 25th, four Fellows and four members of Grounds Maintenance implemented the first phase of the project, installing four benches and filling three planters with soil in prep for adding plants during the next phase. True to the original intent, the materials were left over from other projects.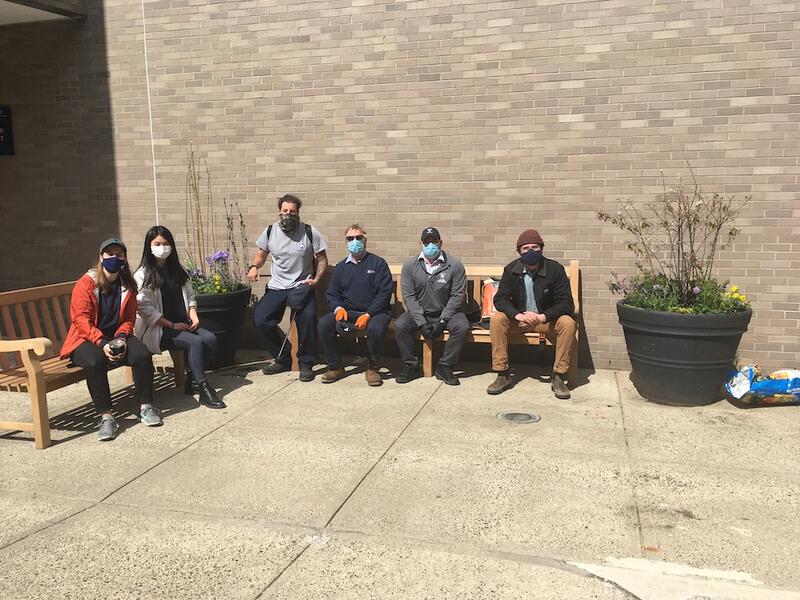 Signore's enthusiasm could not be concealed by his face mask. When asked about the scope and significance of the space, he exuded joy, stating "the best thing about this [space] is, this was all concrete. And now we're gonna have plants growing in a nice place to go, versus just a big concrete slab." Signore, who strongly believes in the role of green spaces in promoting both mental health and a more inclusive culture added, "we're hoping that this is a pilot that would raise awareness for more of these green spaces to be created on campus." Ryan Bishop, a member of Signore's team, acknowledged that this kind of collaboration also offers a rare opportunity to directly bridge the gap between staff and students. Bishop remarked, "I'm a more behind-the-scenes guy, so being up front and talking through their ideas and seeing their vision and how they want it to play out was pretty cool."
Gaydosh noted that within days, students already enlivened the space, saying "there's someone sitting there, usually, [or] locking their bike up or walking through. So, it's pretty active. And in normal times, I think the Center for British Art offices are facing that area, too…there'll be more bodies around and more people kind of watching the space."
As a second-year student, Kraska has experienced Yale both before and during the pandemic, and noted that even in normal circumstances, meeting students outside one's program can be tricky. "I think a lot of people are interested in merging the arts, but it never really takes off because we just get so busy. I definitely think that there's a lot more potential to keep merging campuses." Derlan agreed, adding that "[professional] schools can get to be very insular and siloed and develop their own sort of culture." 
Kraska also sees the green space as more than a static gathering spot, with potential as a living and fluid collaboration. "I'm really hoping that people are inspired to add more to it and start doing their art out here, or [have] inter-campus conversations or projects…[I'm] hoping that it grows." Derlan, who also believes that this green space represents a first step towards a more integrated graduate culture,  concurred, stating "I think that architecture and art have a lot to teach each other. I'm looking forward to meeting more art students through this outdoor space."
Special thanks to Grounds Maintenance staff Joe Signore, Tashim Thomas, Joe Sciarini, and Ryan Bishop; student fellows Miguel Gaydosh, Ben Derlan, Caroline Kraska and Yuyi Shen; and Office of Sustainability members Scot Bearss and Nivanthi Karunaratne.