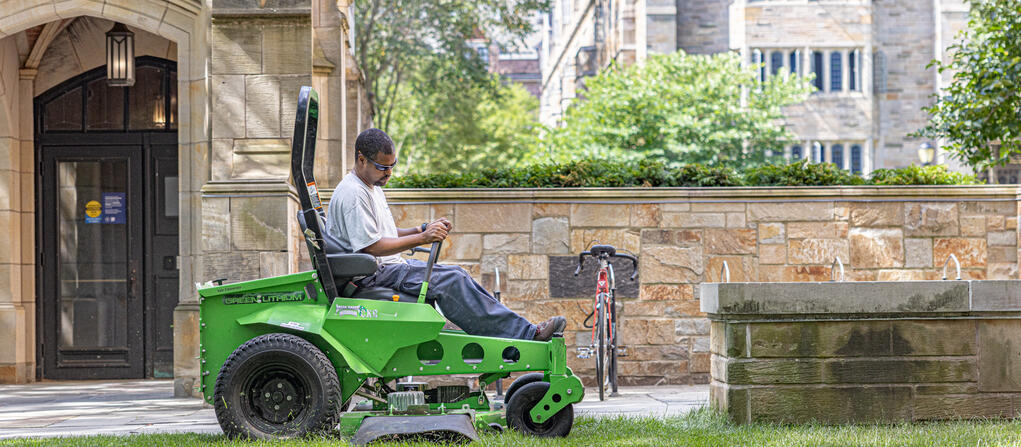 Photos by Robert DeSanto
It used to be that maintaining green spaces meant disrupting them—with the roar of a lawnmower, the whine of a trimmer, or the blast of a leaf blower. And don't forget the pungent aroma of gas that wafted behind them.
No more. With a fast-growing fleet of battery-powered landscape equipment, Yale Landscape and Grounds Maintenance can mow, weed, hedge, and clear debris in a way that is cleaner, greener, and quieter.
The transition began in 2013 and was codified four years later when Yale committed to transitioning to 100 percent battery-powered landscape equipment as part of its greenhouse-gas reduction goals. As of this year, Central Downtown Campus has nearly completed its conversion to all-electric machines.
Leading that charge is Joe Signore, the newly promoted associate director for Yale Landscape and Grounds Maintenance. With Central Campus as a successful test case, Signore is now focused on bringing the battery revolution campuswide.
"I'm very passionate about the environment," says Signore, as one of the university's "Mean Green" brand mowers whirs a few feet away.
Clean technology with broad benefits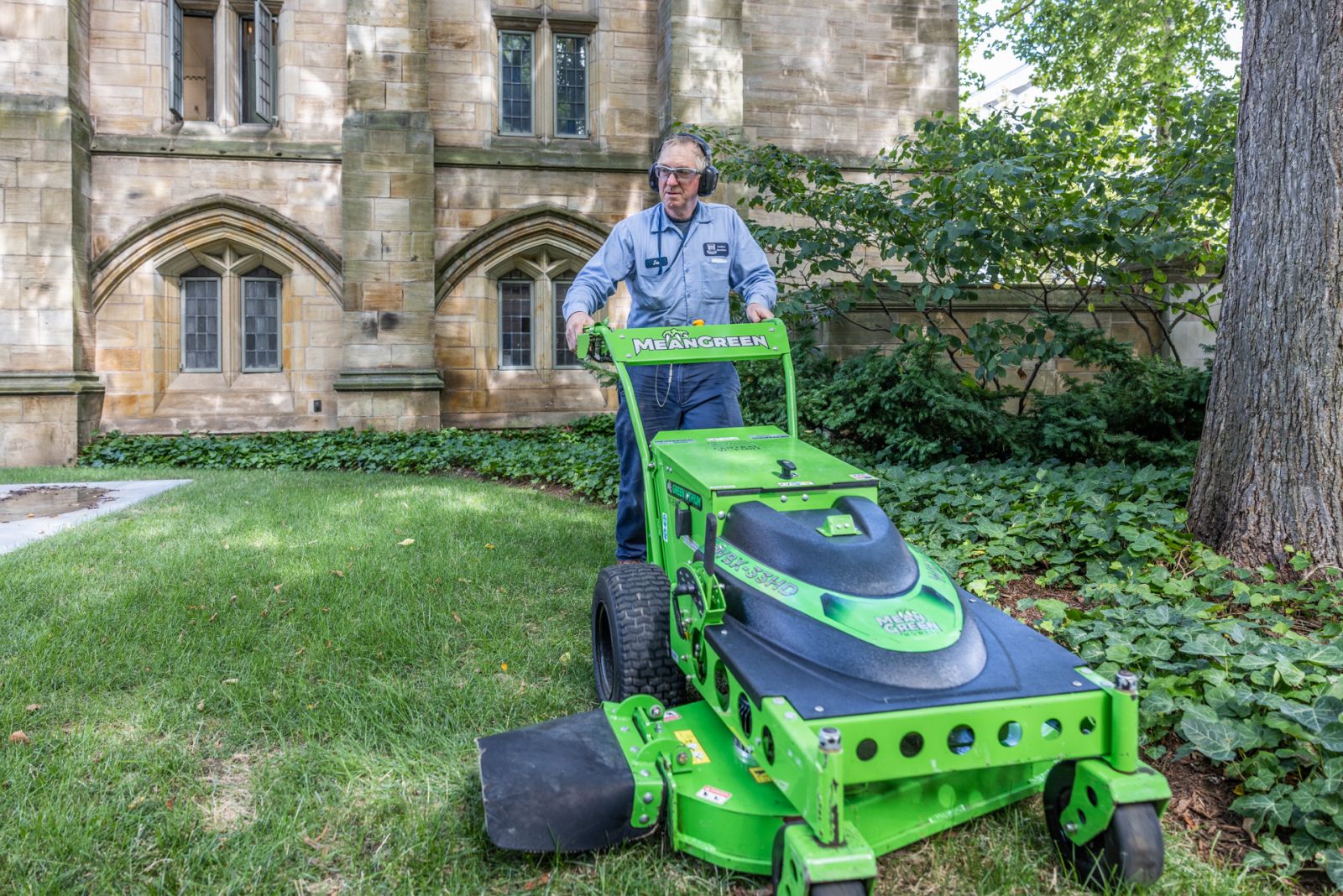 Yale's collection of battery-powered lawn equipment now includes more than 160 tools: mowers, blowers, chainsaws, weed whackers, pole pruners, hedge trimmers, road sanders, golf cart-style electric vehicles, and multi-purpose tools that can accommodate some 40 different attachments—from chainsaw bars to hedge trimmers.
The shift to electric technology brings the university closer to meeting a key goal of the Yale Sustainability Plan 2025—to be carbon-neutral by 2035—and comes with significant benefits to the environment, worker health and safety, and the wellbeing of everyone on campus, says Signore.
For starters, the battery-powered machines have zero emissions, whereas most conventional landscape equipment runs on notoriously dirty two-stroke fuel. Two-stroke engines emit high levels of toxic and carcinogenic pollutants, including volatile organic compounds, benzine, and carbon monoxide. One 2011 study found that a typical two-stroke leaf blower emitted almost 300 times the hydrocarbons of a 6,200-pound Ford F-150 pickup truck.
A second benefit is worker health. While the switch to electric has been a culture shift for a grounds crew accustomed to the feel of gas machines, employees are seeing the benefits of using cleaner equipment. "When they realize they are not getting fumes from a weedwhacker blowing in their faces all day, people start to come around and give it a try," says Signore.
And because battery-powered machines are quieter and less disruptive, it means grounds maintenance staff can get an earlier start—6:30 a.m. instead of 8 a.m.—and avoid working during the hottest part of the day.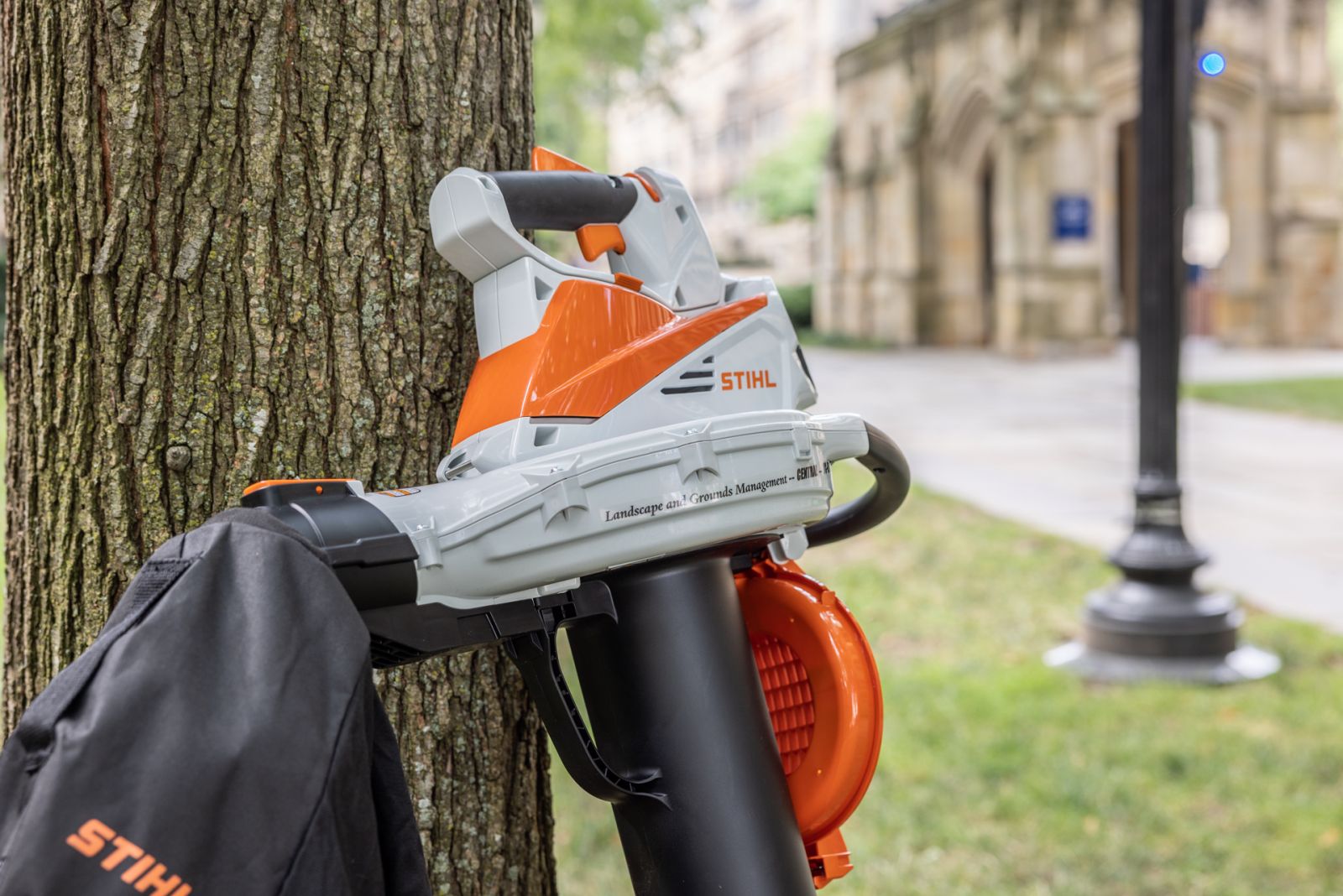 So far, the battery-powered machines have performed reliably and have drastically cut down on maintenance costs, says Lou Sommo, lead mechanic for Yale Landscape and Grounds Maintenance. To illustrate the point, Sommo cites an experience familiar to anyone who's ever owned a lawnmower: replacing mower blades.
"When a gas-powered lawnmower hits a rock or stump, the blade keeps spinning and that can damage the blade and engine parts," Sommo explains. "When an electric mower blade hits something hard, the motor bypasses and stops the blade." That factor alone has saved significant time and money, Sommo says.
Planning the next phase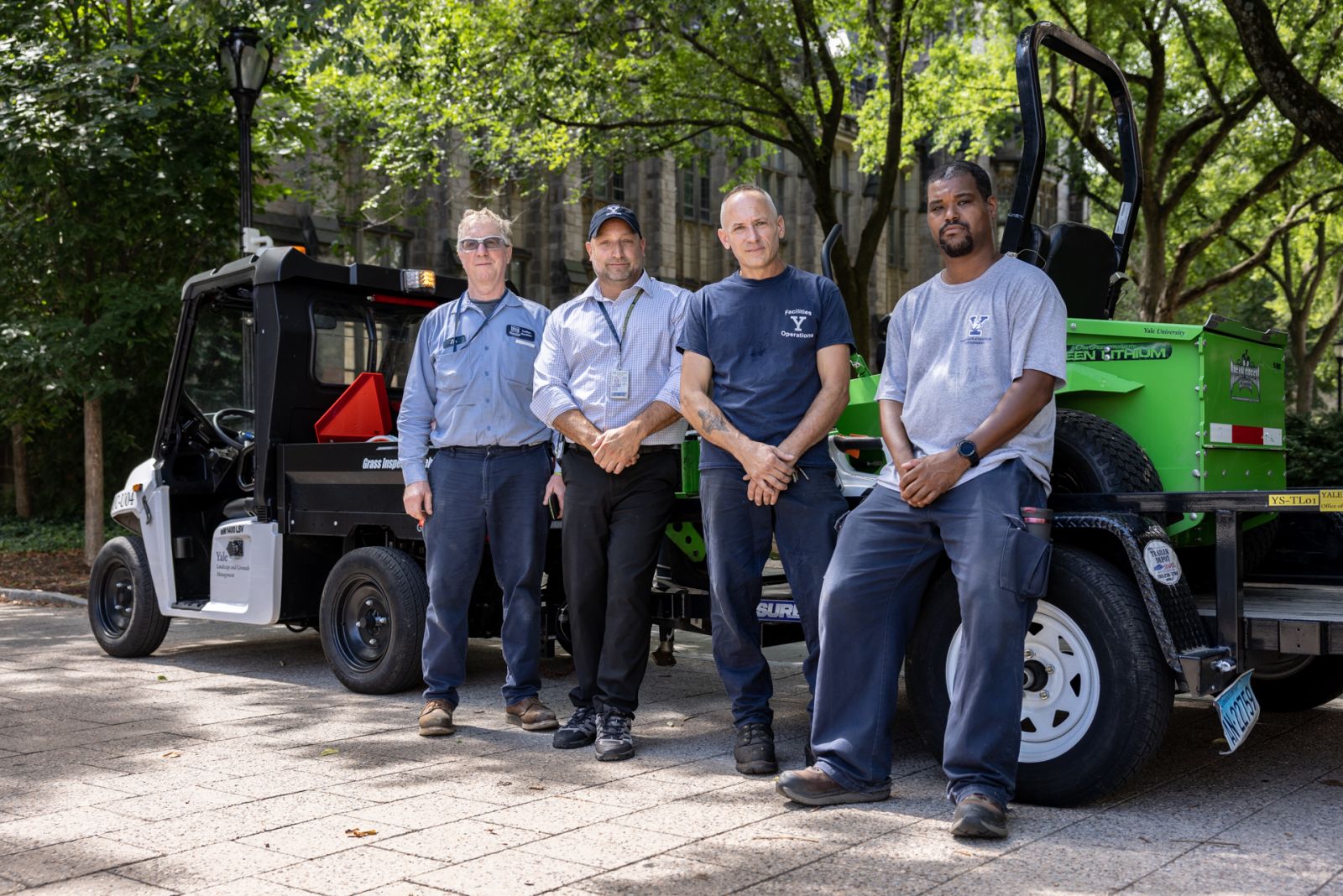 Pictured, from left: Joe Sciarini, Master Gardener; Joe Signore, Associate Director, Landscape and Grounds Maintenance; Lou Sommo, Master Mechanic; Taj Diggs, Master Gardener
Signore and his crew began experimenting with battery-powered lawn equipment back in 2013, when he was supervisor of the Central Campus sector. But the breakthrough came several years later with the advent of improved lithium battery technology, which extended the runtime of machines from just 20 minutes to more than four hours. Newer batteries also recharge in a fraction of the time it took with last-generation batteries, Signore adds.
In the coming months, Signore plans to continue the transition to battery-powered equipment by replacing additional gas-powered machines used at the School of Medicine, athletic fields, Science Hill, and on West Campus. The transition will be a work in progress, he says, as battery and machine technology continually improve.
"We've got to start somewhere. Someone will see this idea and make it better. That's how this is going to work," says Signore. "The whole world is watching what we do. This is a chance to lead the industry and lead the charge to 2050."