The Hixon Center for Urban Ecology, the Yale Office of Sustainability, and the City of New Haven are co-hosting the annual Hixon Conference in Burke Auditorium on Friday, October 13. This year's theme is "Forging University-Municipality Partnerships Towards Urban Sustainability," bringing together municipality and university leaders from across the country to share successful examples of collaboration on sustainability efforts.
The conference is organized into four thematic panels: Leading in Partnership; Transportation; Stormwater and Resilience; and, Climate Action. In the first panel, Mayor Toni Harp and President Peter Salovey with share their sustainability ambitions alongside Mayor of Madison, Wisconsin, Paul Soglin, and Vice Chancellor of the University of Wisconsin-Madison, Charles Hoslet. During the other three panels, four pairs of speakers representing universities and their host cities will describe collaborative projects. In total, twelve different city partnerships will be highlighted during the conference.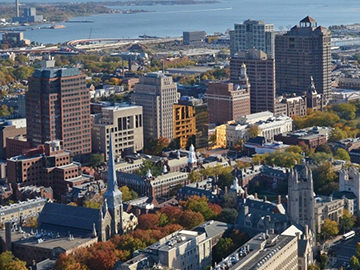 Gaboury Benoit, director of the Hixon Center, hopes participants "will gain an understanding of state of the art ways for universities to partner with cities on environmental challenges." He adds, "the universities bring the latest knowledge and the enthusiasm of students, whereas cities offer real-world opportunities to test ideas and make an impact outside academia."
One of the organizers of the conference, Brianne Mullen, the urban sustainability program associate at the Office of Sustainability, says, "the Yale Sustainability Plan 2025 pays great attention to our relationship with the City of New Haven – both physically and academically."
"Many students, faculty, and staff from various disciplines across the University are working with the City in different ways," she explains. "This conference will celebrate these partnerships towards a more sustainable campus and city here in New Haven and across the country."
The conference will represent a breadth of diversity and accomplishments through the various city partnerships.
"We'll hear from Davis, California, a city of around 70,000, sitting next to Minneapolis, with nearly half a million residents – and from Brown, a smaller private institution, alongside University of Wisconsin-Madison, with nearly 50,000 students," says Mullen.
The conference is open to the public and registration is free through September 5, after which interested participants can still register for a nominal fee. Those who are unable to travel to the conference location can register to watch it via live webcast.
Yale is committed to building a more sustainable world. By doing what we do best—integrating science, the humanities, and our community—Yale creates, tests and adopts innovative solutions to the environmental and social challenges we all face.