For the third year in a row, the Office of Sustainability, in partnership with Being Well at Yale and Student Wellness, hosted the Declutter-Destress-Donate campaign. The initiative encouraged students to reduce clutter by taking stock of their spaces, deciding what they really wanted to keep, and donating the rest.
The campaign ran from Feb. 27 to March 9, aligning with the two weeks before Spring Break. Collection bins from Goodwill Industries of Southern New England were placed throughout the residential colleges to facilitate the donation process.
The campaign had two goals—to help students decrease stress and to promote sustainable habits. Studies have found that clutter can raise stress levels and make it harder to process information and make decisions. However, with the many responsibilities that student have, it can be hard to carve out time to declutter.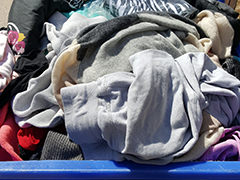 To aid in the process, Jordan Chancellor '19 and Catherine Chang '20, Yale Peer Wellness Champions, co-organized a Declutter-Destress-Donate Study Break during the campaign. Held in Pierson College, the event brought awareness to the benefits of decluttering, and how it can help students destress in their everyday lives.
"We had a good outcome at the event where many people shared ways that help them destress during the busy midterm season," says Chancellor.
Decluttering can also change consumer behavior. By spending time taking stock of their space, people are made more aware of what they really do and don't need. While items that are donated are kept out of the waste stream, reducing the amount that is bought in the first place can help save natural resources.
The Yale Sustainability Service Corps and residential college staff helped make the campaign a success by promoting the event and helping with logistics.
"Despite being busy with mid-terms, students seemed to really take the message to heart, that to declutter helps destress. The bin was filled several times over!" says Tanya Wiedeking, operations manager for Pierson College. In total, 2,446 pounds of donations were collected.
Yale undergraduate students who missed out on the Declutter-Destress-Donate campaign are encouraged to take part in Spring Salvage, an annual waste diversion program that takes place during move-out, from May 1 to May 23. Last year, over 52,000 pounds of items were collected and donated through the Spring Salvage program.
Yale is committed to building a more sustainable world. By doing what we do best—integrating science, the humanities, and our community—Yale creates, tests and adopts innovative solutions to the environmental and social challenges we all face.