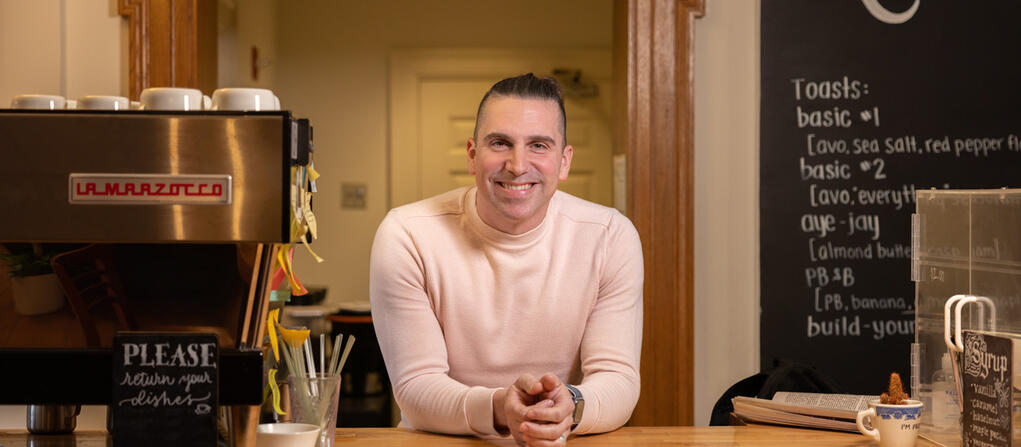 As Operations Manager for Silliman College, Sergio Gonzalez is responsible for overseeing seemingly every aspect of life at Yale's largest residential college—from energy usage and building maintenance to budgeting and student well-being.
Converting a former fellows' lounge into a sustainable coffee shop where students can decompress and sip fair-trade coffee out of reusable mugs was not exactly in the job description. But it's a project Gonzalez took on with gusto—and a perfect illustration of how he goes above and beyond to support sustainability and student wellness.
Gonzalez was a driving force behind Acorn Café, the student-run coffee shop at Silliman College that serves as an oasis from the rigors of academic life. As a longtime former restaurant manager, Gonzalez was undaunted by the idea of building a café from scratch. He envisioned where the "front of house" and "back of house" would go, secured the necessary espresso machines, and nailed pegboard to the wall to hold five dozen reusable ceramic mugs.
"I was pretty fearless when it came to trying something different," Gonzalez recalls. "We had a wonderful group of students who really thought about this being a very green concept. Can we reuse our cups? Can we limit the number of takeout containers we use? Can we find a sustainably sourced bean program? How great would it be to do all these things!"
It's the same can-do spirit he has brought to a range of sustainability initiatives at Silliman over his seven years in the job. Along with former Head of College Laurie Santos, Gonzalez has overseen the planting of vegetable and pollinator gardens; created a lending library for used textbooks to support reuse and student equity; expanded compositing; turned a former English professor's office into a meditation room with a sunken Zen Garden; facilitated Earth Day celebrations; promoted "meatless Mondays" to draw attention to the environmental harms of industrial agriculture; and so much more.
His latest project is creating a lending closet with items he intercepted en route to the dumpster—everything from vacuum cleaners to unopened personal hygiene products—to reduce consumption and waste, and to further build community at Silliman.
Gonzalez says his passion for sustainability stems from graduating college without a lot of money, and in using the gifts and resources he had to build his life and career. He takes pride in empowering students by working alongside them to plant gardens or paint the walls for a new lounge.
"I'm hoping they get out in the world and think, I can build that furniture myself, or I don't have to call someone to fix it," Gonzalez says. "That gives you a sense of ownership but it also reduces your footprint."
Yale College alumna Katie Schlick '22 served as a Silliman College sustainability liaison, a program in which undergraduates at each of Yale's 14 residential colleges work with the Office of Sustainability to embed sustainability into the operations and culture of their communities. In that role, Schlick worked closely with Gonzalez in a range of projects, bouncing ideas off him and benefiting from his positivity and resourcefulness.
"He always approved budgets, though oftentimes he found thriftier—and more sustainable—ways to gather materials for new initiatives," Schlick says. "For example, with the Silliman Winter Market in fall 2021, Sergio spent probably hundreds of hours using recycled wood to build each individual market stall."
"Everyone loves Sergio. He is both a parent-like figure and just a really cool dude," Schlick adds. "He's real with you, he's transparent in telling you when he thinks Yale could do better, he's funny, and he's not afraid to get his hands dirty to make change happen."
Each month, Yale Sustainability features a 'Sustainability Champion of the Month'—a student, staff, or faculty member who is leading the charge toward a more sustainable campus. If you know a sustainability champion at Yale, email sustainability@yale.edu and tell us about them.