Lisa Ford has not owned a car since 1996. To travel between her home in East Rock to the Yale Center for British Art she either walks or uses the Yale Shuttle. "I'm a bit of a heretic for a Californian," said Lisa, who is Senior Manager of Special Projects for the Director at the Yale Center for British Art.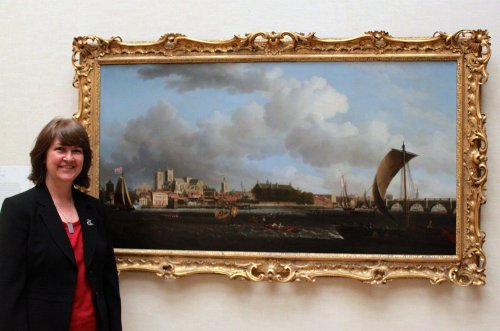 Lisa sold her last car in the mid-1990s when she moved from California to pursue a PhD in Scotland. After attaining her degree at the University of St. Andrews in 2002, she moved to New Haven to work for Yale.
"After living in the U.K., I thought, let's try this [being carless] here," she said.  Being without a car in the U.K. is easy because of its well-integrated public transit system.  Lisa felt confident that she could continue carless in the similarly well-connected Northeastern United States. The 20-minute commute has become a routine part of her life.
"I do enjoy driving but I don't miss it. It's nice to get on a bus and let someone else get me where I need to go," says Lisa—making a point that she can use her free time commuting to read.
Over the years, Lisa has gotten to know the various bus drivers—including the CT Transit drivers who in some cases pull over to pick her up when she's walking toward a stop. "All of the shuttle drivers are lovely people, and using the Yale Shuttle is a breeze," she says.
When the weather is mild, she will take a proper scenic stroll down to the Elm City on her way to work. Lisa is such a regular on the shuttles that when she's absent the drivers will ask where she's been.
A little drizzle doesn't deter her. "I lived in Scotland for over four years," she points out. When asked about the many snowstorms that have hit the Elm City in the last few years she responds, "since I'm one of the few people that can walk to work, I simply put on my snow boots and walk down the middle of the closed roads.  It does seem a bit like a post-apocalyptic film but other than that easy enough, and I don't get snowed in."
Her super commuter status is well known at the Yale Center for British Art where she's referred to as the "bus route queen." When the museum has visiting scholars from Europe who have questions about the shuttle service or bus routes, they are often referred to Lisa.
Other reasons Lisa enjoys walking to work include the benefits of exercise and fresh air and the great scenery along the Green and near Sterling Library. "I like walking, it's so good for you. I wouldn't be in anywhere near as good shape," said Lisa.
When she visits family, in automobile-centric California, the reactions she gets from those that know she doesn't own a car continues to border on incredulity. But she recalls an occasion in which her father asked her if she knew how much money she had been saving going carless.  On average people in the U.S. who don't own cars save about $7,000 a year in  ownership and operation costs, according to AAA. Besides avoiding the cost of car ownership and maintenance, Lisa's East Rock home does not have a driveway.  So there is no snow shoveling required, as an added benefit.
The irony that someone with the namesake of the company (Ford) that brought the automobile to every home in America hasn't owned a car in over 17 years can't be lost on anyone—and  it's not likely to change. "I have no intention of buying a vehicle if I can avoid it," Lisa says.
Author: 
Christian Vazquez