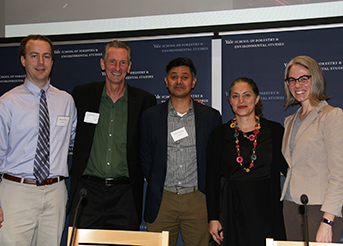 On November 2nd, the Hixon Center for Urban Ecology hosted a conference on "Urban Green Infrastructure: Science, Operation, and Finance" at Kroon Hall at the Yale School of Forestry and Environmental Studies (FES). The conference was a unique opportunity to gather leaders in science, technology, and finance in an inter-disciplinary discussion about the challenges, successes, and opportunities in green infrastructure.
Giovanni Zinn, P.E., the City Engineer for New Haven, gave the keynote address. By using New Haven's bioswale project, Zinn outlined the process of green infrastructure implementation, community engagement, and public-private partnerships for process and financing.
In the morning panel discussions, a few key themes included integration and feedback. Multiple presenters, including Nooshin Razani, M.D. of the University of California, San Francisco, addressed the value of integration between physical and social factors when creating green infrastructure solutions. Others, including Gerald Bright, M.E.Sc., of the Philadelphia Water Department, emphasized the importance of integration across separate units within a project, especially for the purposes of maintenance and the assessment of risks and benefits, all of which have further implications for funding.
"I was excited to see health featured so prominently during this conference. By bringing key stakeholders in green infrastructure and health together, events like this help us to realize key opportunities to promote environmental sustainability and population health," said conference attendee Elsie Moore, YSPH '18.
The afternoon panel discussions addressed funding and finance more directly. In addition to a broader increasing interest in green infrastructure investment opportunities, it was clear that co-benefits make green infrastructure a strong and worthwhile investment. Rebecca French, Ph.D. of the CT Department of Housing and Urban Development, emphasized the importance of collaboration across multiple funding sources and the significance of health sector frameworks and resources.
In sharing his closing thoughts and summary of the afternoon panels, Brad Gentry, Sr Associate Dean of Professional Practice at FES shared a story from a colleague's time in the private finance sector to emphasize the growing momentum of green infrastructure. "A number of Credit Suisse's high net-worth individual clients wanted some sustainable land products in their portfolios," said Gentry. "The field has been building, [providing more opportunities for investment]."
At the end of the day, participants were hopeful but also keenly aware of the challenges in social and environmental justice that still exist and the work that will need to be done to overcome them.
View recordings of the morning sessions or the afternoon sessions of the conference online. 
Yale is committed to building a more sustainable world. By doing what we do best—integrating science, the humanities, and our community—Yale creates, tests and adopts innovative solutions to the environmental and social challenges we all face.