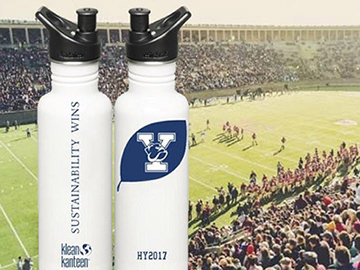 Harvard Crimson wasn't the only competition during the recent Yale-Harvard football game. As part of their "Zero Waste Game Day" initiative, Bulldog Sustainability encouraged students to take on waste.
The Yale-Harvard game, also known as "The Game," brings tens of thousands of fans to the stadium each year, which consequently, often results in litter on the athletic fields. A recent waste audit of a home football tailgate conducted by Yale's Sustainability Service Corps found that approximately 20 percent of waste was littered rather than put into a bin.
Litter negatively impacts the local environment and community, demands more time and energy from custodial staff, goes straight into the dumpster even if recyclable, and creates a safety concern.
Bulldog Sustainability, a student group that partners with Yale Athletics and the Yale Office of Sustainability, is working to reduce the amount of waste and litter generated at tailgates through the "Zero Waste Game Day" initiative, which seeks to increase sustainable efforts at Yale sporting events.
"We're hoping that students can help Yale become more sustainable by simply recycling red solo cups and aluminum cans and throwing away any other trash," says Kira Woods '19, a member of Bulldog Sustainability and the varsity sailing team.
Bulldog Sustainability focuses its sustainability efforts on specific games each semester. Earlier this year, they ran a recycling raffle at the Yale-Columbia tailgate, where anyone who recycled an appropriate beverage container could win a photo with Handsome Dan.
At this year's game, they sold limited-edition Yale-Harvard Klean Kanteen water bottles to encourage reuse even after the game. They also ran a social media campaign #hytrashtalk2017 that encouraged students to post Instagram photos promoting sustainability on campus for a chance to win a free water bottle.
According to Woods, while the social media campaign did not receive as much traction as hoped, the outreach efforts around the water bottle sales received a lot of attention. About a third of the stock was sold.
Bulldog Sustainability plans to sell the remaining water bottles as collectibles, following Yale's 24-3 victory, at upcoming hockey and basketball games, and is enthusiastic about continuing to promote sustainable practices at athletic events.
"I think sports have a unique ability to draw people together in support of a common goal, and I hope that sustainability can become incorporated into the game-going experience," says Caroline Schlutius '18, Bulldog Sustainability Project Coordinator. "I hope that we can move from litter and waste being an unfortunate by-product of going out to see our team, to a game day experience enhanced by acting sustainably."
Yale is committed to building a more sustainable world. By doing what we do best—integrating science, the humanities, and our community—Yale creates, tests and adopts innovative solutions to the environmental and social challenges we all face.