The Sustainable Waste Reduction at Yale School of Public Health student group (SWAY) recently launched a Bring Your Own (BYO) campaign at their kick-off event on Jan. 19. The campaign aims to reduce waste by eliminating disposable items at the School's catered departmental events.
Sheridan Finnie MPH '18 got the project off the ground last spring after winning an Actionable Research Grant from the Yale Institute for Biospheric Studies and the Yale Office of Sustainability. She hoped to reduce waste at the Yale School of Public Health (YSPH) by promoting a School-wide culture shift towards reusable items and environmental stewardship.
The BYO campaign is headed by SWAY, a group of 10 students at YSPH led by Finnie, that is organized into four teams: marketing, logistics, event evaluation, and focus groups. SWAY is supported by the YSPH Sustainability Committee, co-chaired by Heidi Richard and Professor Robert Dubrow. The campaign aligns with one of the Committee's key goals of sustainable and healthy catered events and meetings at YSPH.
Since the campaign is a School-wide initiative, its success depends on School-wide involvement.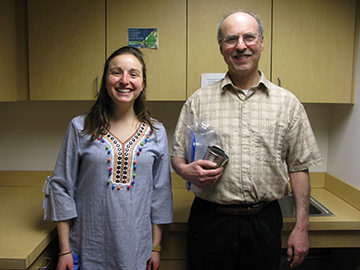 "It was a goal of ours to involve the whole community, and we really wanted to be able to bring our entire community into this new transition away from disposables items," says Finnie.
The kick-off event exemplified this aim. Held in Winslow Lounge, a communal space at YSPH, the launch event encouraged active participation from all who attended. SWAY took the launch as an opportunity to distribute free reusable food containers and beverage tumblers, purchased for all members of the YSPH community, roughly 850 people. SWAY's logistics team came up with the purchase options for the items, including reusable utensils to be distributed later. After picking up their items, attendees were encouraged to provide input to questions like: "What are barriers to zero waste? How can we help break them down?"
SWAY also encouraged people to sign up for focus groups. Led by Elsie Moore MPH '18, the focus groups strive to bring a diverse group of people together from the YSPH community to discuss how to facilitate broad sustainability efforts at YSPH. A focus group that met last semester helped provide input for the BYO campaign.
Attendees were actively supportive of the campaign. "I think it's a very good initiative because between all of the different seminars and talks that go on here at the School of Public Health, there's so much food provided and so many disposable items provided," said Anthony Yakely MPH '19. "Being able to provide these [reusable] containers is an easy step to really cutting that waste down so I'm enthused to see so many people here getting containers and then hopefully looking forward to seeing that sustained."
Distributing reusable containers is only one step toward a sustainable culture shift. To use their containers regularly, the community needed a place to wash them. Finnie worked closely with Facilities staff to renovate a previously closed kitchen near Winslow Lounge. The newly renovated kitchen was unveiled and officially opened during the kick-off event. A new hydration water bottle filler station was also constructed to help reduce the use of disposable water bottles.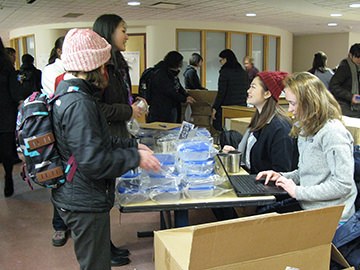 Reusable items distributed and physical infrastructure in place, SWAY will now be working on the behavioral component of disposable item use.
There are six departments at YSPH, each of which have weekly seminars with catered lunches. This semester, SWAY will be holding a competition among the departments, evaluating metrics such as how many students and faculty bring reusable items in lieu of using disposable items.
SWAY has been working closely with the School's administrative staff on educational material and appropriate metrics for the competition. The weekly seminar emails will now include a header reminding students to bring their own eco-box; educational signage will be added inside toilet stalls; and seminar staff will be encouraged to opt out of purchasing disposable items. The competition will act as a pilot for the School's broader disposable waste elimination efforts.
"As the School of Public Health, we have a responsibility to promote more sustainability practices," says Wei Chang MPH '19, co-leader of SWAY's logistics team. "We hope that through our initiative we can set an example for some of the other professional schools around Yale to lead in this sustainable practice and life style."
Yale is committed to building a more sustainable world. By doing what we do best—integrating science, the humanities, and our community—Yale creates, tests, and adopts innovative solutions to the environmental and social challenges we all face.