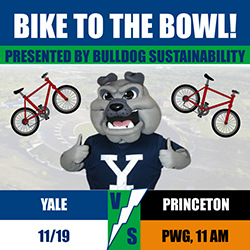 While Yale Football warmed up for its final home game against Princeton on November 15, a group of around twenty fans biked to the Yale Bowl to promote zero-carbon transportation, health through exercise, and safe city cycling.
The event was the last of a series of rides collectively known as "Bike to the Bowl" (B2B). The program is coordinated by Bulldog Sustainability, a team of Yale students working at the nexus of sport and sustainability in support of the Office of Sustainability and Department of Athletics' joint mission to develop socially and environmentally responsible athletic programs.
"That Saturday was our best turnout to date and a great way to cap off the 2014 season," said Matthew Viens, first-year Master of Environmental Management (MEM) Candidate at the School of Forestry & Environmental Studies and Project Coordinator for Bulldog Sustainability.
A mix of undergraduates, graduate and professional school students, alumni, and New Haven residents participated in the last outing of the season. The ride left from Yale's Payne Whitney Gymnasium two hours before kickoff and took Chapel Street out to the Yale Bowl.
Although riders had to brave the cold, they were met with warm cups of coffee and hot cocoa, breakfast foods, and a chance to win several raffle prizes at the tailgate set up for B2B participants. One lucky rider received a free tune-up courtesy of Devil's Gear Bike Shop, the lead sponsor of B2B. Another cyclist won an official Bulldog Sustainability B2B t-shirt.
"Over the course of three months, B2B has transformed from a fledgling program to a successful platform for educating members of the Yale and New Haven communities about sustainability, specifically alternative transportation," said Christopher Bowman, Yale College '16 and Project Manager for Bulldog Sustainability's education and outreach programs.
Bulldog Sustainability held three B2B rides during the 2014 football season: September 27 (Army), October 11 (Dartmouth), and November 15 (Princeton). After a successful inaugural year, B2B will look to gain even more momentum next year.
"We started the season with one lone rider and ended with twenty," said Matthew Viens. "I would like to see participation grow to the point where we can consider hosting a critical mass ride for next year's Harvard-Yale game."
For more information about B2B, email bulldog.sustainability@yale.edu.