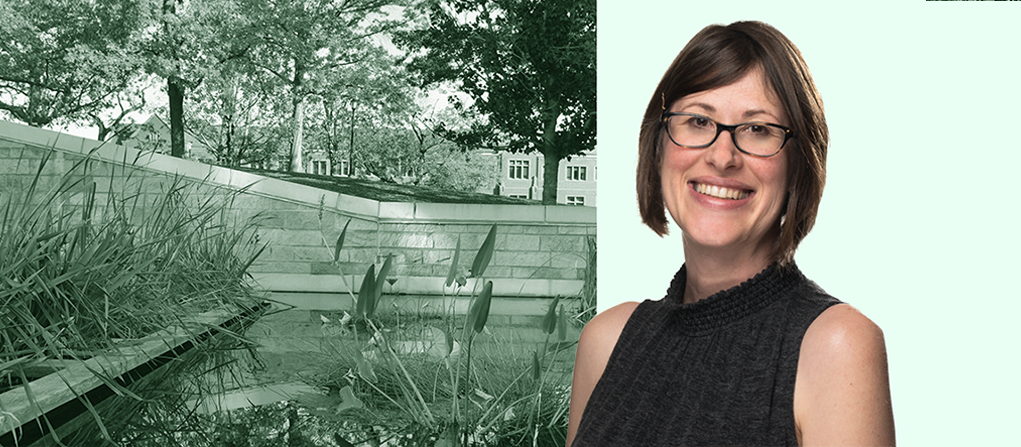 Amber Garrard, who has served in the Yale Office of Sustainability for 11 years, including the past two as Associate Director, has been named as the Office's new Director. She succeeds Ginger Chapman, who retired as Director in December following a nearly 30-year career at Yale.
In her new role, Garrard will lead the Office's staff and serve as a member of the Facilities senior leadership team. She brings to the position deep experience in sustainability in higher education, having worked on a broad range of issues including sustainable transportation, health and nature, environmental justice, resilience planning, and the social aspects of sustainability. At Yale she has served as a liaison to local health care intitutions, the City of New Haven, and State of Connecticut, coordinating planning efforts and ensuring high-level visibility for Yale's sustainability initiatives and accomplishments.
Prior to Yale, Garrard directed the Sustainability Office at Green Mountain College. During her tenure, Green Mountain was twice recognized as one of the greenest colleges in the nation by Sierra magazine and became the second college in the country to achieve climate neutrality. Amber received an M.A. in Sustainable Development from the SIT Graduate Institute and holds a B.A. from the University of Portland.
In this Q&A, Garrard discusses her professional journey and looks ahead to Yale's sustainability priorities for the months and years ahead.
Congratulations on your appointment. What will be the top sustainability priorities for Yale in 2023?
Four things immediately come to mind. First is our continuing work toward our climate targets—to make Yale a zero-emission campus by 2050, with an interim step to be carbon-neutral by 2035. Second is expanding our climate mitigation work to actively address climate adaptation and resilience. Third is continuing to find ways to better account for Yale's full footprint of emissions, or Scope 3 emissions—accounting for the impacts of activities such as business travel. And lastly, we want to ensure we can finish strong on our Yale Sustainability Plan 2025 and begin to think about what comes next. I am also eager to meet with members of the Yale community to hear their thoughts on what our priorities should include moving forward.
What got you started in this field? Did you always know you wanted to work in  sustainability?
I got involved in campus sustainability work while I was in graduate school. I was studying international development, thinking I'd work on environment-related projects abroad. My program was very focused on issues around social justice and based in a community that prioritized environmental sustainability. I saw the potential synergies of connecting these efforts—directing my attention to coalition-building around topics related to food and energy security, building efficiency, and participatory planning, and I ended up building my research thesis around this.
Once I saw the opportunities to use a college or university as both a living laboratory to test new ideas and a place to try, practice, and model solutions—and started to connect with professionals in the field—I realized this work was a natural fit for me.
Anyone who has worked with you knows you're a connector—both within Yale and to outside partners. Why is making connections so important to climate work?
I think a lot about the analogy of a stressed ecosystem:  the more diverse that ecosystem is, the better it is able to cope with disruptions. I feel like the same is true for organizations and communities. Diverse perspectives make us stronger and more resilient, hence the need to forge connections and create inclusive spaces.
I see our climate challenges as intersectional. You can't really tackle environmental issues without recognizing their interconnectedness with social issues, economic issues, and issues of justice. Our solutions should be interconnected too—science informing policy with direct input from communities.
I always find there's a lot to learn from others who have explored similar ideas from a slightly different angle. I'm very interested in finding ways that we can leverage our shared exploration and learnings into solutions we can try.
You've worked for the Office of Sustainability for 11 years. How would you characterize the progress Yale has made in that time?
I was really impressed with the work Yale was doing on sustainability when I first arrived at the university, and that has only deepened over the years, especially as I work with partners across campus and realize how many people are deeply committed to this work. When I first started helping to implement Yale's sustainability plan, it was limited to operations and short-term goals. Our current sustainability plan is much broader, and its success really depends on participation from the entire Yale community. Some of our targets are ambitious and still feel like a stretch, but we're not afraid to try and find solutions that we know need to be tested. I hope we can continue to embrace this broader perspective and keep a larger vision in mind as we move forward.
I know that diversity, equity, and belonging are very important to you. How can we better work for environmental justice—as an institution or as individuals?
This is a great question and one that I'm constantly striving to better understand.
It's easy to act with good intentions and not necessarily stop to consider the actual impact that our actions have. I think it's important to listen and be aware of our impacts as much as possible, and when we realize that we've made a mistake, we should own that and adjust our course. We're never going to be perfect at this, but I think we can always strive to listen, learn, and be open to seeing things through others' eyes.
What are some of the biggest opportunities for improving sustainability at Yale in the next, say, 5 to 10 years?
I'm very excited about the trajectory of growth at the University. It's inspiring to read the Provost's updates about the work being planned to grow the university, with new expansion to accommodate programming for the sciences, medicine, arts, and humanities. This feels like an enormous opportunity to integrate the goal setting we've done—how we will achieve our aggressive climate target, how we can be resilient and adapt to a future changing climate—while also responding to the incredible programmatic demands outlined. I'm excited for us to think about these issues comprehensively, collaboratively across departments, and to model new ways of designing and implementing work that can set an example for others.
Can you name one significant challenge we face as a result of a changing climate, and how Yale is preparing to meet it?
I see the social impacts of a changing climate to be some of the most concerning. As our planet warms and we see more intense storms, drought, water insecurity, and impacts to food and energy systems, a lot of people are made more vulnerable. In that state, the tiniest disruption could threaten their livelihoods and have serious impacts on their families and surrounding communities. We see this on a global scale, and right here in the New Haven community.
I am continually impressed by the visionary work of Yale's researchers across many disciplines—colleagues from the Schools of Public Health, Architecture, Medicine, Divinity, Management, Environment, and the Law School, just to name a few. All are looking hard at policies and solutions to address these challenges in collaborative ways. It is my hope that we can help to test and model some of these solutions, and lead by example, to help scale up ideas that can make a difference in people's lives.  
You understand the threats that climate change poses to our communities better than most. How do you keep the doom and gloom at bay?
Part of what I love about working at a university is the fresh energy and ideas that our students and researchers bring to addressing these challenges. I'm energized by the strength of the younger generation in continuing to press for new ways of thinking and doing things, and by the commitment that many have made before us, paving the way.
Health and nature is another area you've worked on extensively. Where are your favorite natural places to restore and decompress?
I love to be in the mountains or in the water to decompress; and that time is important to me. It energizes and motivates me, and helps to focus me on what's important in life. No matter the season I find a long walk in the woods or a sunrise surf session helps to center me, and enables me to better engage with those around me. 
What do you love about this work? What gets you motivated each day to work for sustainability?
I love the diversity of this work and the breadth of challenges it presents, from buildings and energy, to transportation, to food systems and environmental health. As a result, I get to work with experts and practitioners across so many fields, learn from them, and ask hard questions to help us all do our work better and strive to make the world a better place to be.