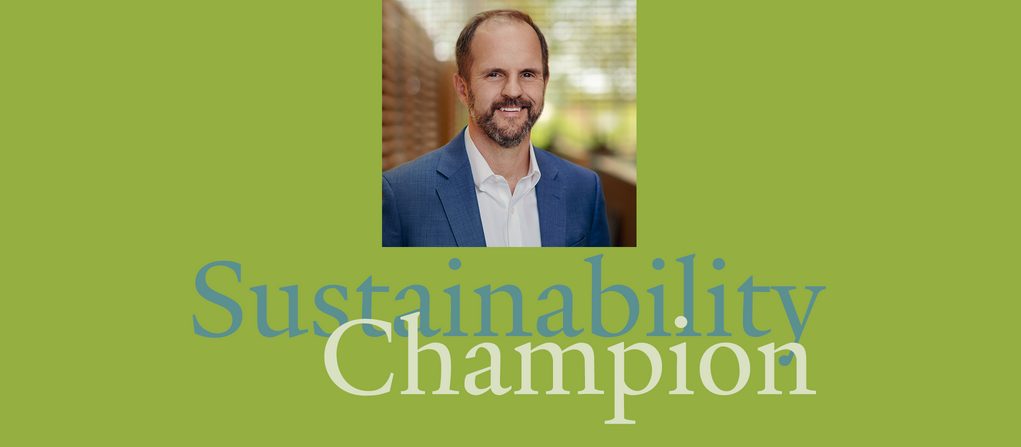 Stuart DeCew is Executive Director of the Yale Center for Business and the Environment, a joint initiative of Yale School of the Environment and Yale School of Management that he likens to "a startup inside an academic environment."
Like other startups, CBEY (as the Center is known) has thrived on innovation, young talent, a committed team, and novel approaches to addressing a big, vexing challenge—in this case, climate change. For the thousands of Yale students and non-Yale professionals who have benefitted from its programs and mentorship, CBEY has been a launching pad to pursue ideas and careers in environmental entrepreneurship.
DeCew has been the driving force behind CBEY for the past 12 years. He first came to Yale in 2008 as a graduate student jointly enrolled in the Yale School of Management and Yale School of the Environment. He had already spent a decade in the workforce gaining valuable real-world experience as a Peace Corps volunteer, a Congressional aide, and a producer for a documentary film festival in Cairo, Egypt.
It was a stint with the Sierra Club that helped him see to the essential role of businesses in addressing climate change. DeCew was leading a campaign to improve water quality in the Gulf of Mexico by decreasing fertilizer runoff from farms and lawns, and he partnered with a group of business leaders that included retired carpet salesmen, charter boat captains, and people in the alternative garden supply industry.
"I appreciated how much they were able to get done in limited time periods—they just had this focus on execution," he says. "The way they were speaking—both practical and optimistic—it motivated people to take action."
Those who work with DeCew describe him as a connector, a big-picture thinker, a systems analyzer, and a great listener—qualities that, he says, were nurtured by his many mentors at Yale, among them Brad Gentry, CBEY's co-director and Senior Associate Dean of Professional Practice at Yale School of the Environment.
Now it's DeCew and the team at CBEY who are mentoring a new generation of climate leaders by offering programs, fellowships, internships, and funding opportunities at the intersection of business and the environment. The goal: to harness Yale's expertise in pursuit of a more just and sustainable world outside of Yale's walls.
DeCew has also been an important and longtime partner to the Office of Sustainability, connecting interdisciplinary faculty with operational staff to solve campus challenges, co-chairing the Sustainability Implementation Steering Committee after the Yale Sustainability Plan 2025 was launched, and providing valuable thought-leadership on how to scale up campus sustainability programs.
In DeCew's time at the helm, CBEY has built a climate track into the annual Yale Innovation Summit; partnered with world-class faculty on applied research in rooftop solar; created industry leading publications in conservation finance and clean energy finance; hosted countless student engagements with alumni; and expanded its offerings to include popular certificate programs for working professionals: one for "Clean and Equitable Energy Development," and another for "Financing and Deploying Clean Energy," which has engaged more than 500 participants in just five years.
More than any single program, however, DeCew takes pride in the culture CBEY is helping to foster. "We're building a team of people who look for impact, not credit. We want to support a culture of Yale being a leader on the social and environmental impact of every venture."
"There is no single individual or silver bullet" that's going to solve the climate crisis, he adds. "By connecting all the individual puzzle pieces of expertise—that's where we're going to find the bit of magic that we need."
Each month, Yale Sustainability features a 'Sustainability Champion of the Month'—a student, staff, or faculty member who is leading the charge toward a more sustainable campus. If you know a sustainability champion at Yale, email sustainability@yale.edu and tell us about them.