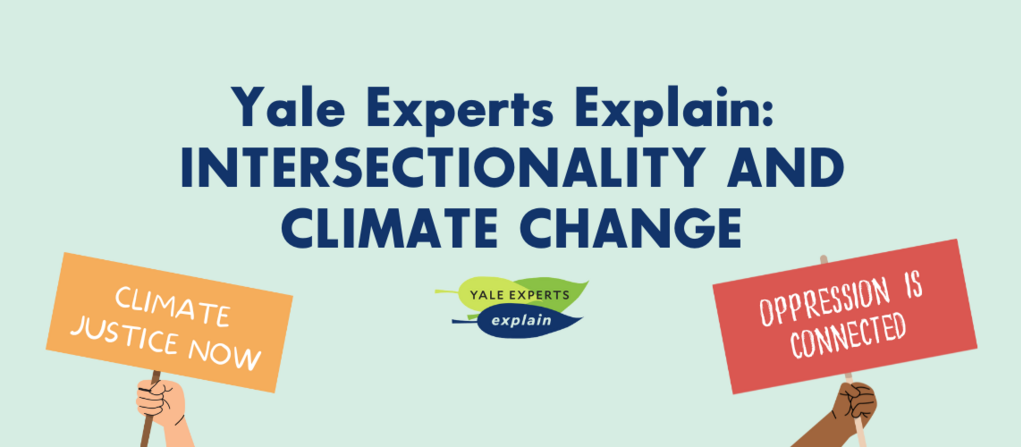 Dr. Skyler Jackson and Cam Humphrey discuss a social framework for advancing inclusive and equitable climate solutions.
What is intersectionality? Where did the term originate?
Intersectionality is a way of examining issues to understand how characteristics such as race, place, age, gender, and geography intersect with each other and interact with power structures to create and reinforce power, privilege, disadvantage, and discrimination, explains Cam Humphrey (YSE '21), who was Environmental Justice Fellow at Race Forward, part of Dr. Dorceta Taylor's Environmental Fellows Program at the Yale School of the Environment.
The intersectionality framework comes from Black feminist activists such as those in the Combahee River Collective, and the term was later popularized by legal scholar Kimberly Crenshaw in the 1980s. While the term's presence in academia is relatively new, the framework has been popular in social justice communities for more than a century.
"Intersectionality is a critical framework used to understand people's unique experiences, risks, and resiliencies and how they are shaped by multiple systems of power," says Dr. Skyler Jackson, Associate Research Scientist at the Yale School of Medicine. "We all sit at the intersection of multiple identities and multiple systems of power, and that fact has real implications for our everyday experiences and well-being."
Systems of power and oppression such as white supremacy, patriarchy, capitalism, heterosexism do not occur in isolation, Jackson explains. "These systems interlock and collide and cooperate, to create something greater than the sum of their parts."
How does using an intersectional lens help to understand systemic social injustice and inequalities?
"With traditional research, the knowledge we gain is one-dimensional and has less complexity, leaving us less equipped to solve the pressing social issues around us. In other words, when we look at the world one issue at a time—identifying climate change vulnerabilities based solely on race, or building safety nets based on disability status alone—entire communities fall through the cracks," Jackson says. "An intersectional lens provides a more complete and honest picture of the multiple factors that shape people's everyday lives. It can be difficult and sometimes messy, but whether you're a scientist or an activist, thinking about various forms of oppression in a simultaneous, integrated manner will likely help you arrive at a better and more equitable answer to the problem at hand."
What are some examples of how identities and power structures shape one's relationship to climate change?
In recent years, the term Intersectional Environmentalism has been popularized by climate activists such as Leah Thomas, who defines the term as "an inclusive form of environmentalism that advocates for the protection of all people and the planet." By examining the intersection of social and environmental injustices that target vulnerable communities and the planet, Humphrey explains, this intersectional approach reveals a more complex and individualized experience with climate impacts and helps to achieve more equitable outcomes.
"It is no secret that climate change disproportionately impacts some groups over others, like poor communities or communities of color," Humphrey says. "However, with an intersectional lens, we can see how climate change more harshly affects individuals with multiple vulnerable identities, for example poor communities of color, or women of color."
Humphrey encourages us to think critically about the intersections between climate change, race, class, and gender identity. For example, Humphrey explains that LGBTQIA+ communities experience social stigma, higher unemployment, and housing insecurity, making them more vulnerable to environmental disasters.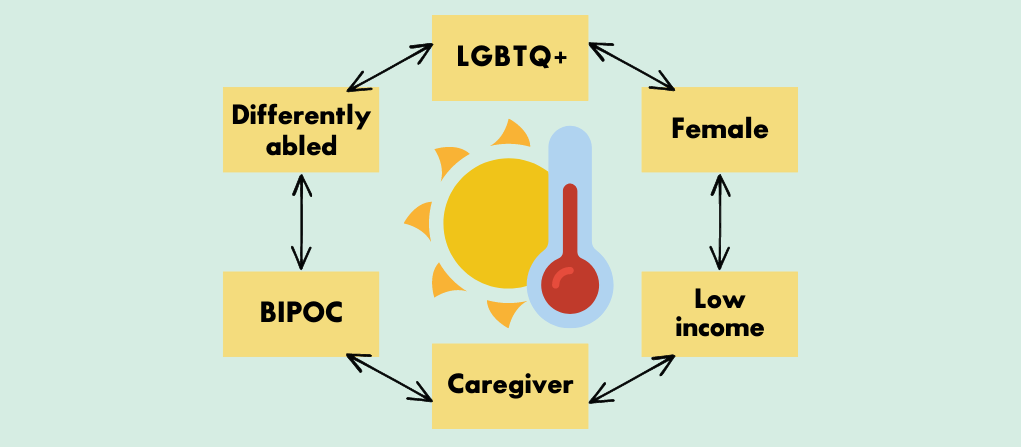 Humphrey gives another example, this one from the fossil fuel industry.
"The fossil fuel industry worsens the climate crisis by emitting heat-trapping greenhouse gases into the atmosphere and by worsening air and water pollution," Humphrey says. "Simultaneously, low-income and/or communities of color are more likely to live in areas immediately polluted by these industries and will experience the health consequences of this environment."
Humphrey points out that this increases the burden on women as unpaid caretakers, who are often responsible for tending to ill family members when high quality care is neither accessible nor affordable. 
"In this example, women and particularly women of color are left more economically vulnerable due to the climate crisis, and the wealth gap increases between men and women," Humphrey says.
There are countless other examples. Applying an intersectional lens helps communities to solve problems in a way that serves as many people as possible.
"When we take time to understand the compounding identities that people have and how that may or may not compound the impacts of climate change, the solutions we design become much more nuanced and complex," Humphrey says. "If we do not account for compounding identities and the more subtle impacts associated with climate change when designing social climate policy, we cannot consider our solutions to be just or equitable."
How can decision makers apply intersectional lenses to climate action?
Our experts concur that anyone in a position of power, from policymakers to practitioners, can start by engaging with communities to gather their deep knowledge around what and who is perpetuating and exacerbating their injustices and listen to their needs and solutions. For Jackson, this means being very purposeful in the design of research projects and policies and in the framing of data and stories around social issues.
"When working on social issues, try to be intentional about reaching out to and being inclusive of people that live at community intersections—individuals who face multiple forms of oppression—to understand their unique experiences," Jackson says. "Social issues are not black and white and should be understood and solved with nuance."
Specifically, Humphrey believes that intersectionality must be central to the climate movement, and that it begins with "critical and intentional listening to communities experiencing injustices firsthand."
"Frontline communities, communities of color, women, the LGBTQIA+ community, marginalized and poor communities: these folks are just as much of an expert on the intersections between the climate crisis than any academic," Humphrey explains. "For too long, these communities have been shut out of decision-making processes or have been denied resources. We should be working to provide infrastructures and the platforms that will allow their strategies to be acknowledged, their policy proposals to be accounted for, and their vision for their community implemented."
What can individuals do to apply an intersectional lens to social and climate issues?
Our experts suggest that individuals interested in learning more about an intersectional approach can start by engaging with the experiences, writing, and ideas of those with different worldviews. While doing so, it is essential to avoid the urge to make assumptions and blanket statements related to climate impacts and community needs.
"We are all so different," Humphrey says. "We all come from different backgrounds and upbringings, we share different cultures, we have different wants and needs. We will never be uniform, but an intersectional approach makes us unified. With unity comes solidarity, and with unity comes agency, and if we are united, we can collectively put an end to the drivers of climate change and begin to create a climate-just world."
What is Yale doing?
Yale's Environmental Fellows Program is diversifying the environmental field by giving master's and doctoral students from underrepresented groups leadership opportunities in environmental nonprofits, media outlets, think tanks, governments, and grassroots organizations.
Directed by Dr. Dorceta Taylor, Senior Associate Dean of Diversity, Equity, and Inclusion and Professor of Environmental Justice at Yale School of the Environment, the program is a 12-week summer fellowship supported by several philanthropic organizations that gives future decision makers real-world experience in the fields of conservation, justice, equity, and philanthropy. Fellows receive a base stipend plus travel support and are placed across the U.S. at nationally recognized organizations. By elevating future leaders from diverse communities, the program positions those most affected by the climate crisis to help drive its solutions, and to gain valuable training that encourages environmental problems to be viewed through an intersectional lens.