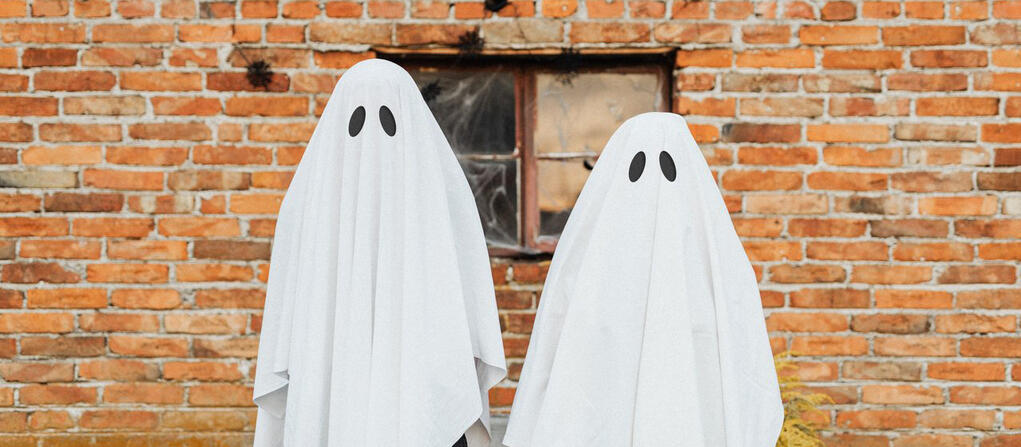 This year, keep your Halloween spooky and the earth clean.
Halloween Costumes Contribute to a Chilling Amount of Waste
Nearly 85% of Halloween costumes end up in a landfill, and many store-bought costumes come coated in a non-recyclable plastic. This year, instead of contributing to the waste, consider making your costume out of things you already have in your closet. Check out this article for some inspiration on
making costumes out of clothes you already have
. Here are some great examples:
Frida Kahlo - pencil in your unibrow and pair together some funky color and pattern combinations. She was known for her amazing outfits, with fun earrings and flower crowns.
Grab a friend and be Netflix and Chill, one of you needs a red t-shirt and the other needs a blue one. Now tape the Netflix logo on the red one and the word chill on the blue.
Dunkin Donuts: wear a basketball jersey and shorts, sneakers, tape pictures of donuts all over your outfit, and carry around a basketball.
If you do need to purchase items for costumes, go to secondhand stores, flea markets, vintage stores, etc., or ask your friends if you can borrow something from their closets.
If you have old costumes that you will never wear again, donate them to be reused, reducing the environmental impact. Some great charities to donate your old costumes to are
The Halloween Helpers
and
'Ween Dream
, as they both distribute gently-used Halloween costumes to children who are homeless, living in poverty, in shelters, or in the foster care system.
Graveyards and Ghouls Gone Green: Think Sustainable Decorations This Halloween
Halloween decorations are often cheaply made from materials that are not recyclable or biodegradable, and are mostly made of plastic, which means after Halloween, they will just end up in a landfill. Instead, carved, locally-sourced pumpkins make great Halloween decorations. The best part is that you can then roast the pumpkin seeds and make pumpkin pie, bread, etc., from the remaining pumpkin parts. You can also make Halloween decorations with old cardboard boxes and paint. Here are some ideas for decorations:
Make tombstones for your yard by cutting up cardboard boxes, painting them gray, and writing funny or spooky sayings on them.
Make your door look boarded up by cutting out cardboard pieces to look like rough wood, tape them to your door, and write "Keep out!" on one.
Clean your old, plastic milk jugs, and draw spooky faces on them in permanent marker. Put lights in them to make them look like translucent ghosts. If you put the caps back on the jugs, then they will be waterproof, so you can display them outside all month long. Remember to turn off the lights when you aren't using them!
Cut your cardboard into arrows, paint them different colors, write spooky places on each (e.g. "Witch's Way," "Toad Trail," "Broomstick Boulevard," "Cauldron Circle," etc.), and tape them on your wall pointing them in different directions.
 
Halloween Can Be Scary, But the Origins of Your Candy Shouldn't Be
Chocolate production has many negative effects, such as deforestation, widespread poverty, gender inequality, child labor, and forced labor. So be aware of the origin of the candy you buy for Halloween, and try to buy Fair Trade Certified. Buying ethical Halloween candy doesn't have to be expensive, even brands such as KIND, Kirkland, and Trader Joe's have ethically-sourced chocolate. A great brand is Tony's Chocolonely, which offers
Tiny Tony's
for Halloween. You can find more
lists of ethically sourced candies
and
find out where your favorite chocolate brands fall on the spectrum of sourcing.
Easy Tips for Buying More Ethical Halloween Candy: