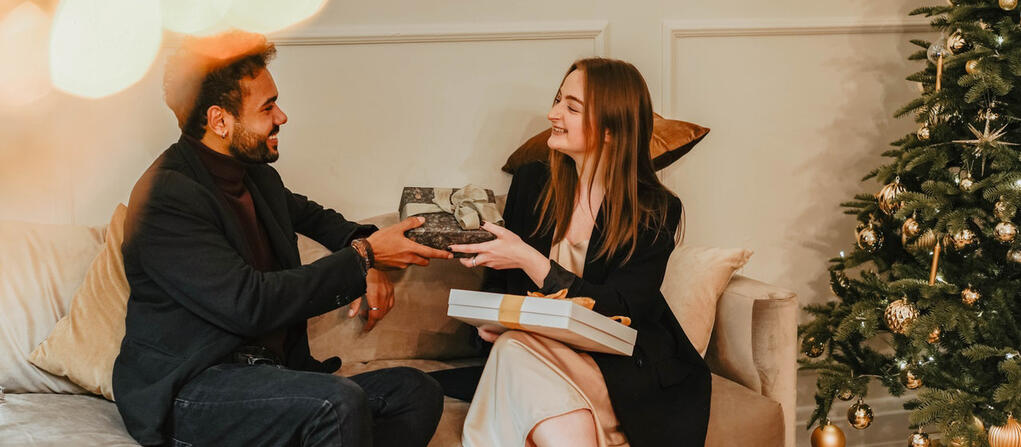 Glittering ornaments. Glimmering lights. Glowing trees. Gleaming gifts. 
Holidays are a time of abundance—and unfortunately waste. To ensure an eco- and budget-friendly holiday season, use the following tips:
Shop wisely
Shop local, starting with your own house. That sweater that doesn't quite suit you might fit a friend perfectly. Same goes for unopened or barely-used personal care and household items.
Buy used at local thrift, secondhand, and consignment stores for more ideas after you've assessed what you already own to give away. As Gretchen Weiners taught us, vintage is "so fetch." For the book lover, check out bookstores in your area for deals on gently-loved books.
Support local businesses. If you decide to buy new, try to shop locally and check if the product is certifiably responsible. Helpful certifications include Leaping Bunny, FSC, and Fairtrade. Above all, try to make sure the item you buy is durable and reusable. Think about their passions; buy a high-quality thermos for the coffee fanatic or a cozy blanket for the bookworm. Many local stores now offer shipping and delivery services, so if you're looking online, combine orders to help you avoid shipping fees while reducing the number of boxes and plastic shipping materials
Check out online retailors for used goods online. For the book lover, check out sites like ThriftBooks and alibris. For the clothes lover, peruse sites such as thredUP, eBay, the RealReal (for the discerning fashionista), Swap, and Patagonia Worn Wear. 
Create exchanges within friend groups
Swap wishlists to ensure everyone receives a gift they'll love and use. Wishlists often have items people want but won't justify purchasing for themselves, so you can prevent waste while letting your friends help you "treat yo' self," Parks and Rec-style.
Organize Secret Santa exchanges online. Everyone gives and receives one gift, keeping it fun yet budget-conscious. Decide on a price limit and share wishlists with a group of friends, then randomly and anonymously assign gift givers to recipients. This maintains the element of surprise—the recipient can't guess in advance who their Secret Santa is or what they will pick! To keep it extra-festive, open gifts virtually together and then try to guess who gave what. 
Make personalized DIY gifts
For close friends, this can be a creative way to celebrate your friendship. Here are some ideas:
Create a custom book of coupons. Coupons might offer to do a grocery run, drop off a homecooked meal (bonus points for plant-based), or scheduling a virtual friends date. 
Handwrite a letter or send e-cards instead of buying non-recyclable cards made of plastic-coated paper. 
Bake some goodies for your sweet(-toothed) friends (bonus: make a big batch to divide among more friends and save some for yourself). Package food items in reusable containers, materials you already have, or a compostable paper bag. 
Knit a scarf if social distancing finds you with extra time.
Reduce holiday waste
Use creative wrapping materials. Pretty fabrics from thrift stores, old sheet music, colorful magazine pages, reused boxes, wrapping paper from previous years, and reusable bags all cut down on consumption and plastic usage all while make your gift's packaging stand out. To cut your plastic usage down even further, check out these videos on how to wrap boxes and cylinders—without tape.
Save materials. Hold onto shipping boxes to package gifts! Unwrap gifts carefully so you can reuse the paper next year. Receive a gift you're not crazy about? Make it the gift that keeps on giving by passing it on to a friend who would cherish it or donate it to a local charity. 
Manage materials responsibly. After the holidays have passed, break down and store boxes for reuse or recycle. Strings of lights no longer glowing? Check out your municipality's electronic recycling program. 
With gatherings limited, this year's holiday season certainly looks different. Gifting can be a way of expressing affection from afar. Taking these steps will help you express your affection to Mother Earth, too.