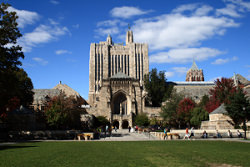 How does a university grow while drastically reducing its impact on the environment? As paradoxical as this challenge sounds, Yale has embraced responsible growth as a critical part of its mission. The University is rapidly expanding—both in terms of its physical infrastructure and as a source of world-class research. As we grow we must find innovative approaches to minimize environmental impacts. Yale's commitment to responsible growth is evident throughout the University's scenic campus.
Yale's status as a sustainability leader is demonstrated by the release of its Sustainability Strategic Plan 2010-2013. The plan is a framework of goals and targets designed to advance Yale's efforts over the next three years. It recognizes the complexity of the University as an organization and focuses on best practices that conserve natural resources, create positive work environments, improve public health, and strengthen partnerships with the New Haven community.
Building on more than 300 years of dynamic history, Yale continues to set the pace for change. All over campus, men and women with varied interests develop cutting-edge practices and technologies, contribute to scholarship, and educate leaders who will help to set new standards for a more sustainable 21st century. As you learn more about Yale's efforts, keep in mind how you can bring it back to your organization, your community, and your home.