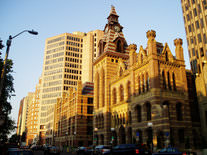 The Yale Community Carbon Fund (YCCF) is a joint project of the Office of Sustainability and the Center for Business and Environment at Yale to support local carbon mitigation projects that go beyond Yale's immediate campus. When money is donated, the Yale Community Carbon Fund staff invests it in ways that enable low income people or organizations in New Haven to become more energy efficient AND save money. 
How it Works
Calculate your personal emissions or emissions associated with an event.
Take steps to reduce individual or event emissions and donate to the YCCF to help offset unavoidable emissions.
The YCCF invests donated funds in energy saving projects for low-income households in New Haven.
Calculate Emissions
Visit the Community Carbon Fund Calculator website to work out the emissions associated with your occasional travel, regular commute or Yale related event. Based on basic information you provide, the calculator will predict your associated emissions. It will then suggest a recommended donation to the fund.
You can even use the calculator to work out how many emissions you can save by changing the way you do things. For example, if your department organizes a webinar rather than physically bringing people to campus, the event calculator will work out the emissions you saved by having a webinar.
Donate
Donations are made through the Community Carbon Fund Calculator. After calculating your carbon emissions the calculator will connect to a secure website where donation amounts can be specified and a transaction securely completed.
Projects and Event Contributors
To learn more about specific projects supported by the YCCF or to see what New Haven events have offset their footprint with donating to YCCF, visit the Projects and Event Contributors page. 
Contact Us:
Yale Community Carbon Fund
sustainability@yale.edu
203-436-3571