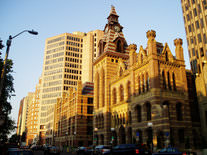 The Yale Community Carbon Fund (YCCF) is a joint project of the Office of Sustainability and the Center for Business and Environment at Yale to support local carbon mitigation projects that go beyond Yale's immediate campus. When money is donated, the Yale Community Carbon Fund staff invests it in ways that enable low income people or organizations in New Haven to become more energy efficient AND save money. 
How it Works
Calculate your personal or departmental travel emissions or emissions associated with an event.
Select from the three donation options to help offset your emissions (see Donate below).
Calculate Emissions
Visit the Community Carbon Fund Calculator website to calculate the emissions associated with your occasional travel, regular commute, or Yale related event. You can calculate emissions for an individual, a group of colleagues, or your whole department. Based on the information you provide, the calculator will predict your associated emissions and will suggest a recommended donation amount.
You can even use the calculator to determine how many emissions you can save by changing the way you do things. For example, if your department organizes a webinar rather than physically bringing people to campus, the event calculator will tell you the emissions you saved by having a webinar. 
Donate
Donations can be made by secure debit or credit card through the Community Carbon Fund Calculator. After calculating your carbon emissions you will be connected to a secure website where you can make your donation. Donations can be made to one of three options: 1) Connecticut Children's Healthy Homes Program to help low income New Haven residents pay for health and safety problems so that they can have energy efficiency work done in their homes, 2) Urban Resources Initiative (URI) - a Yale affiliate which plants trees in the city, or 3) a gold standard offsets project chosen by Nexus (a non-Yale affiliated organization which identifies and supports gold standard carbon emissions reduction projects).
If you prefer to donate through a Yale internal transfer of funds please make note of your calculated suggested donation and contact the Office of Sustainability, sustainability@yale.edu. Departments making donations should use expense type 911200 Subsidies (DR) for transfers or when preparing budgets.
Projects and Event Contributors
To learn more about specific projects supported by the YCCF or to see what New Haven events have offset their footprint with donating to YCCF, visit the Projects and Event Contributors page.