Yale University celebrated its 313th Commencement ceremonies on Monday, May 19th, 2014 in a greener way this year. By promoting composting and recycling, Yale encouraged graduates and guests to reduce their waste during commencement activities.
When planning the Class Day and Commencement events, Heather Calabrese, Director of University Events, met with a team from the Office of Sustainability and Facilities to discuss opportunities to make Yale's commencement ceremonies greener.  Many of these actions were integrated into the graduation events. 
During Class Day, water spigots and compostable cups were provided for guests, rather than plastic water bottles.  On Commencement Day, staff made bottled water available to guests without actively distributing water bottles to everyone.  Recycling racks were set up at each of the seven hospitality stations, and the Facilities Waste Systems Manager, Robert Ferretti, spoke to volunteers about recycling.  A message encouraging guests to recycle was displayed on the jumbotron video prior to the start of the commencement address.  Commencement staff volunteers were also informed of sustainability practices and asked to assist with waste reduction efforts.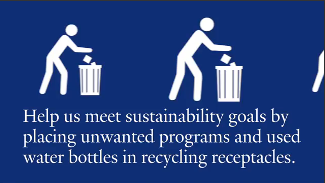 Reflecting on the events, Calabrese said, "It was a pleasure to work with Facilities and the Office of Sustainability to explore ways we could improve how green commencement is; we took some great steps this year and look forward to taking more steps in the future to encourage good guest behavior and reduce the amount of paper and material used as part of commencement."
The School of Forestry and Environmental Studies (F&ES) held a zero waste commencement luncheon.  The caterer, Eli's on Whitney, used a combination of reusable, compostable, and recyclable materials: guest plates, utensils, and cups were compostable; serving ware was reusable; and drink cans and bottles were recyclable.  Sugar and creamer for coffee were in bowls and pitchers rather than individual packets. 
In total, more than one thousand guests participated in the F&ES commencement luncheon held in Kroon courtyard. Towards the end of the commencement address, an announcement was made to let guests know about the compostable and recyclable items.
To handle the waste, approximately five stations were set up around the courtyard with a trio of receptacles for recycling, composting, and trash. This arrangement was important for minimizing contamination across waste steams; they learned from past years that if trash bins aren't provided, trash would be thrown into the recycling or composting bins, compromising the entire waste stream. 
"We pride ourselves on running as many zero waste events as possible.  The commencement lunch event is a forerunner," said Joanne DeBernardo, Assistant Dean, who oversees F&ES graduation.  The event achieved Green Event Certification at the highest level, Platinum.  F&ES was not alone in striving for a zero waste event. 
The Yale Graduate School of Arts and Sciences (GSAS) also hosted the largest green commencement luncheon on campus for 2,200 people, catered by HGS Dining, with completely compostable or reusable containers and cups for guests. It was also Green Event Certified at the Platinum level. Robert Ferretti worked with the GSAS commencement luncheon planning team and custodial staff to provide waste receptacles. 
The luncheon event was held in the courtyard and classrooms of the Hall of Graduate Studies, with dining tables and waste receptacles provided both indoors and outdoors. In total, nine waste stations were strategically placed, each attended by a student, who made sure than no stray dunkin donuts cups or water bottles went into the compost bins. 
"We wanted to do something green, delicious and fun, and the compost-only picnic luncheon with a reusable souvenir Yale Grad School lunch bag was a hit with students and guests," said Lisa Brandes, Assistant Dean for student affairs who coordinated the hospitality & logistics. "Working with our HGS dining hall manager, George Knowles, and Yale Dining staff, we looked closely at our menu, taking out non-compostable chip bags, cookie wrappers and condiment packets, and substituting whole fruit, fresh veggies and just- baked Yale cookies in compostable containers. We served over 2,000 people in less than 25 minutes, so it was efficient, too. We had several water stations and even served nice boxed wine (and recycled the boxes and bags), both with compostable cups. People loved the reusable lunch bags, and the student waste attendants told me that guests were amazed that every service item was compostable. We now have a great Green model for all of our large scale Graduate School events- thanks to excellent cooperation between GSAS, Yale Dining, Sustainability and Facilities," said Brandes.