Happy holidays! As we wrap up 2015, it is exciting to look back at some of Yale's accomplishments over the past year that have enhanced sustainability on campus and beyond.
We installed a large solar array on West Campus, which is predicted to generate 1.6 million kilowatt-hours of electricity annually; the equivalent of powering 130 Connecticut homes. By utilizing a model in which we lease the solar cells and buy the electricity, the array can supply West Campus with power that is far cheaper and cleaner than the electricity used in most of the country. 
The Yale community as a whole also distinguished itself as a conscientious, sustainably-minded group of people. Go New Haven Go, a month-long competition in September, awarded Yale with the prize for "most transportation emissions prevented by a large business," by preventing 84,660 pounds of carbon emissions that month through sustainable commuting options.
Our reuse programs were in full swing. In 2015, Spring Salvage diverted 31 tons of furniture, textiles, and housewares, keeping these materials out of the waste stream and getting them to people who could use them. Bulldog Sustainability's December 2015 bi-annual clothing drive was also a great success, allowing for reuse or repurpose of over 600 pounds of material.
We set up new infrastructure to make future operations more sustainable. The Energy Science Institute (ESI) at Yale's West Campus installed machinery to generate nitrogen gas on-site. By using this machinery, ESI dramatically cut its need for shipped materials, reducing emissions from truck deliveries. The system challenges its users to rethink how we acquire and use basic materials by incorporating uncommon technologies.
True to form, Yale's grassroots efforts also shone throughout the year. At the School of Medicine, Riold Furtuna developed a system to organize frozen samples throughout his lab in the Department of Microbial Pathogenesis. The system reduced demand for freezer space, leading to better organized samples, fewer duplicated purchases, and less crowded freezers—not to mention substantial savings in energy use and cost.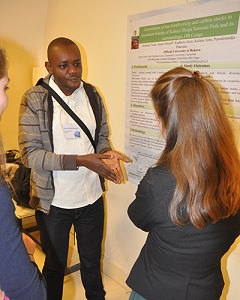 Students also contributed wholeheartedly and in diverse ways. As a more reflective exercise, Katie Colford (Calhoun College '16) used 673 incandescent bulbs to design an exhibit to prompt people to rethink how they use energy. The bulbs were acquired via a Yale program which swaps out incandescent bulbs in the residential colleges for LED lights.
Students also contributed to improved operations. A course at the School of Forestry and Environmental Studies challenged students to consider whether Yale's Sustainability Plan was ambitious enough. Their findings were presented last December, and are currently being incorporated into the planning process for future Sustainability Strategic Plans.
Yale also played a key role in the 2015 International Alliance of Research Universities Global University Climate Forum. The forum brought teams of students from around the world together to discuss actionable plans to make their universities more sustainable. Throughout this year and next, participating students will continue their dialogue and implement their plans, reporting back on their progress. 
Looking forward, 2016 should be another exciting one for Yale Sustainability. The recently launched Carbon Charge Initiative will use the campus as a living lab to test various methods of carbon pricing. Beyond reducing our own campus's emissions, the initiative hopes to provide evidence for evaluating which types of carbon pricing may be the most effective in incentivizing emissions reductions in other contexts.
Happy Holidays from the Yale Office of Sustainability – here's to another great year!