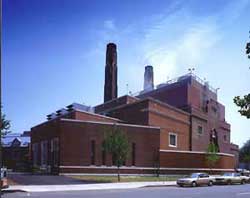 Yale's Central Power Plant has provided the campus with electricity, steam heat, and chilled water for over 90 years. The plant utilizes cutting-edge technology to produce energy at maximum attainable efficiency.
Although it was originally built to burn coal, the plant now generates power with much cleaner natural gas and employs a technique called co-generation— recapturing the lost heat released during electricity creation to be used as an additional source of energy. Producing electricity through co-generation is more than twice as energy efficient as traditional methods.
The plant provides enough electricity to power fifty percent of Yale's campus—equivalent to more than 11,000 Connecticut homes. Yale's energy reduction goals represent a 15% reduction from the 2005 level and continued progress toward the 2020 greenhouse gas reduction target.
The Medical Campus's Sterling Power Plant was recently converted to a co-generation facility as well. This will reduce the energy intensity of the power plant while reducing the associated greenhouse gas emissions.
Learn more about the Plants' sustainability features. 
For more information on Yale's power plants please visit facilities.yale.edu