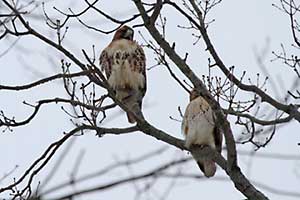 The goal of citizen science at Yale is to train students, faculty and staff to survey and record biodiversity on campus. Participants gain bird and plant identification skills and develop a better understanding of urban ecology in 'ordinary' spaces while assisting scientists in gathering large, continuous datasets.
The Yale Office of Sustainability has partnered with the Yale Peabody Museum of Natural History to create this innovative new program. The pilot phase introduced potential citizen scientists to bird species on campus. Future sessions will incorporate plant identification, phenology, and will challenge participants to consider why certain plants are selected, and how they contribute to habitat and wildlife food sources.
Data collected by citizen scientists will be compared with climate and weather data to understand trends pertaining to migratory bird patterns and plant growth patterns.
Learn more about data collected in the Yale Experimental Watershed. 
Resources
Develop your bird identification skills by reviewing this list of commonly found species at Yale, and then visiting the Birds of Connecticut exhibit at the Yale Peabody Museum of Natural History to test your skills.
If you have information on bird collisions on campus, please enter it in the Yale Biodiversity Portal or here.