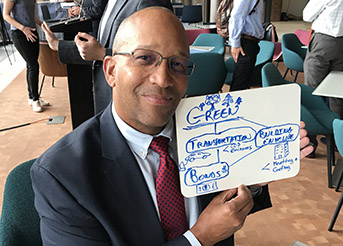 Celebrate Sustainability, an annual series of events held to raise awareness and deepen engagement with sustainability on Yale's campus, took place October 7th-11th. The 2019 theme was Climate Action, and the Yale community came together to host a diverse calendar of events on campus and beyond that showcased successful innovation and the ongoing challenges of mitigating and adapting to climate change. The week culminated with a reception that highlighted "big ideas" for action on climate.  
Nineteen events occurred on and around campus during Celebrate Sustainability, including a Growing Native Plants from Seed workshop with Peabody staff, a Nature Immersion Meditation session on West Campus, and a reusable water bottle giveaway at the Yale/Fordham football game.
Yale's residential colleges and professional schools organized events tailored to the interest and expertise of their own student bodies. The School of Forestry & Environmental Studies hosted an Energy Career Panel: Insights from Alumni, featuring five alumni in the energy industry, and the School of Public Health hosted Climate Action Day where students could contact their political representatives or take personal climate action pledges. Sustainability Liaisons from each of the 14 residential colleges also hosted college-wide events promoting climate action on campus, including clothing swaps, LED lightbulb exchanges, a carbon emissions dining labeling pilot project, and more.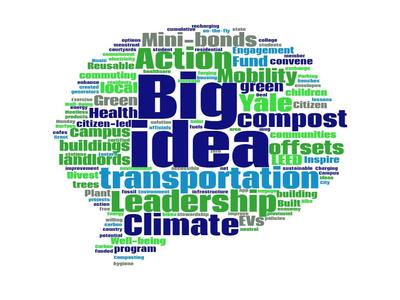 The greater New Haven community also had the opportunity to get involved in Celebrate Sustainability through events like Yale Farm workdays, Transportation on Tap - a lecture exploring the Green New Deal and the future of transportation - as well as the Staff Appreciation Tree Planting, where three trees were planted by Urban Resources Initiative staff, volunteers, and honorees Susan Matheson and Annie Imbornoni.
The week-long series of events concluded with a reception hosted in the new Steep Café at the Yale Science Building. The event included 21 posters showcasing the work and research of residential colleges, professional schools, cultural spaces, and other administrative and operational departments around the Yale community centered on Climate Action. Seventy-five guests and representatives from these groups spent the evening inspired by the diverse climate action occurring on campus and discovering opportunities for future collaboration.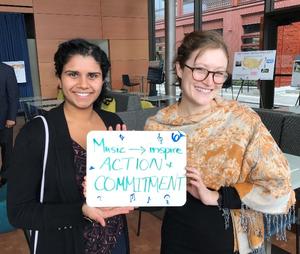 Bryan  Garcia ('00 FES), President and CEO of the CT Green Bank, offered insights on how Yale's actions and commitments connect to the state of Connecticut's priorities during his keynote remarks.
In his speech, Garcia highlighted the need to address 'the Sustainability Imperative', a term extracted from A Better Planet: Forty Ideas for A Sustainable Future, a book of essays recently published by Yale Press outlining actionable, bi-partisan solutions to today's environmental crises. He explained that impactful climate action requires "Big Ideas"; his being the promotion of citizen engagement through investment in Mini Green Bonds.
Garcia then encouraged participants to find their own "Big Idea" and to jot them down alongside their peers. Several key themes emerged during the activity, including improved mobility and materials management, community empowerment and inclusion, and ambitious emission reductions targets. Additional themes are featured in the word cloud above.
Here are 10 "Big Ideas" collected during the event:
Grant program for New Haven residents with neighborhood improvement and sustainability ideas

Build a regenerative village

More low-packaging options at Durfees and other campus cafes

An on-the-fly commuter app

Green New Deal in Healthcare

Divest from fossil fuels

City funded compost pick up

Solar benches on cross campus and residential college courtyards

Exercise bikes attached to electricity generators

Carbon Neutral Yale by 2030 
Read more about Celebrate Sustainability 2019, sustainability efforts happening on campus, and ways to take action all year long.
Yale is committed to building a more sustainable world. By doing what we do best—integrating science, the humanities, and our community—Yale creates, tests and adopts innovative solutions to the environmental and social challenges we all face.