Start recycling writing instruments!
We all know how to recycle things like paper, cans, and bottles, but what about old pens and used up markers? Although these items are too difficult to recycle via a Single-Stream program, Yale's Office of Sustainability now makes it easier for you to go beyond the basics of recycling with its Pen Pail program.
The Office of Sustainability has partnered with Terracycle, a company that collects hard-to-recycle waste items and makes them into new products like backpacks and trash cans. With more than 30 million people collecting waste in over 20 countries, Terracycle has diverted billions of units of waste and created over 1,500 different products. You can find these products at stores like Wal-Mart, Whole Foods, and Home Depot.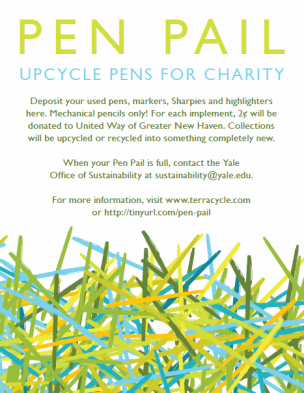 Yale is now collecting writing instruments as a member of Terracycle's Writing Instrument Brigade. The Office of Sustainability is assisting offices around campus in setting up special Pen Pails—collection bins where you can drop off any defunct writing implement. For every writing implement Yale collects, Terracycle donates two cents to The United Way of Greater New Haven. The endeavor is an all-around win: Yale diverts its waste stream, spends nothing, and earns money for a great cause.
 
Ready to get started? Here's how to start collecting used writing instruments in your office:
1. Send an email to sustainability@yale.edu to request a Pen Pail sticker.
2. Attach the sticker to any small receptacle or envelope and let everyone in your office know about the new way to recycle their used pens.
Accepted items: pens and pen caps, mechanical pencils, markers and marker caps, permanent markets and permanent marker caps
3. When your pen pail is full, notify sustainability@yale.edu.
For more information, visit www.terracycle.com.