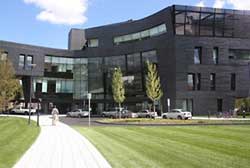 The Yale Health Center serves 36,000 students, faculty, staff, retirees, and their dependents in the 47,000 square foot building that opened in August 2010. The LEED Gold certified building features a large atrium that provides ample natural light, rooftop gardens, sustainably sourced materials, and a variety of energy saving technologies.
The interior environment was a primary focus for this building:ventilation rates, temperature controls, lighting,and ample views to the outdoors were carefully designed to achieve optimal indoor environmental quality and promote occupant well-being.
Carbon dioxide sensors ensure that fresh air is supplied when CO2 concentration levels are high. Finishes, such as interior paints, sealants, and adhesives, have low Volatile Organic Compound (VOC) content to reduce toxicity and noxious odors. The building was also one of the first in Connecticut to receive the Green Guide for Health Care.