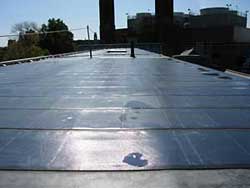 One initiative that is helping Yale to achieve its aggressive greenhouse gas emission reduction goal is the installation of solar photovoltaics. Yale has installations of various sizes on campus. 
Solar installations include a 24.5-kilowatt thin-film solar system on Swing Dorm and Fisher Hall at the Yale Divinity School provides a platform for 40kW solar system consisting of 255 solar panels.
Visible from the ground, the School of Forestry & Environmental Studies' Kroon Hall has a 100kW solar system. In addition to the solar panels Kroon Hall has also incorporated evacuated solar hot water tubes on the south facade of the building. This solar thermal system produces all of the hot water for the building.
Over at Yale's West Campus, a 1.34 megawatt solar installation atop the Storage and Receiving Center generates nearly one-fifth of West Campus's energy demand. The array includes 4,400 panels covering close to 2 acres of roof top.