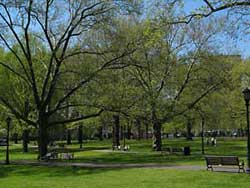 Equal parts park and town square, the New Haven Green is the centerpiece of a nine-square street grid first established by the city's founder, John Davenport, just after New Haven's founding in 1638.
For centuries the Green has served as New Haven's heart, hosting events such as an annual arts and culture festival and a weekly farmers market in the summer. This beautiful urban green space also serves as a prime location for recreational opportunities for students and city residents.
Yale is a constructive and active member of its hometown. Yale opens its world-renowned libraries and museums to the public free of charge. It also collaborates with New Haven on projects ranging from poverty reduction to recycling outreach. New Haven is integral to Yale's sustainability efforts.