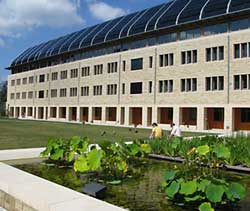 Housing Yale's School of Forestry and Environmental Studies, Kroon Hall's design and construction goes above and beyond industry standard. The building's shape—a combination of New England barn and cathedral nave—reduces interior temperature fluctuations, while its innovative geothermal ventilation system circulates conditioned air through perforations in the floor. 
This air is heated and cooled using water that flows through deep geothermal wells to regulate its temperature, rather than relying on traditional fossil fuels. A 100-kilowatt solar array on the roof, solar water heating system, and an abundance of natural light all help the building reduce carbon emissions.
In addition, a graywater system captures rainwater, filters it with aquatic plants in an adjacent water feature, and uses it to flush toilets and irrigate the landscaping. Kroon has been sustainably landscaped with native plantings, while low-flow plumbing fixtures outfit the lavatories to further reduce water demand.
The building materials for Kroon were also carefully chosen. Fifty percent—or 15,000 board feet—of the wood used in construction was harvested from nearby Yale-owned, sustainably managed forests.  Structural concrete was made from recycled blast-furnace slag, preventing more than 4,000 tons of carbon from being emitted into the atmosphere.
With the goal of excellent indoor air quality, all adhesives, paints, and carpets contain no- or low-volatile organic compounds, which minimizes off-gassing of toxic vapors. These features and dozens of other sustainable building techniques combined to make a remarkably functional, beautiful, and sustainable facility in which to educate the world's future environmental leaders.