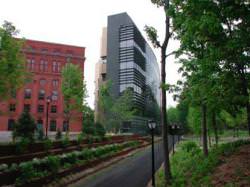 The historic Farmington Canal Heritage Trail is an 84-mile biking and pedestrian trail that follows the meandering path of a former canal. Originally constructed in the 1820s as a waterway linking towns between New Haven and Northampton, Massachusetts, the canal was converted to a railway in the mid-1800s. Portions of this railway were in use until the 1980s, but during the 1990s, the railroad right-of-way was converted to a rail trail for recreational use. In 2006, Yale contributed toward the completion of the final two blocks of the trail through downtown New Haven, from Hillhouse Avenue to the Audubon Arts District.  
In addition to its contribution to renovating a small part of the Farmington Canal, Yale established the Office of Transportation Options with the goal of reducing the environmental and financial impact of the University's transportation needs while enhancing the quality of life for all users of New Haven's streets.
This office works simultaneously to reduce the number of single-occupancy commuter vehicles and the size of the Yale fleet. Their tools include a bike share program; enhancing facilities for bicyclists; offering "commuter counseling" and other incentives for using transit, bicycling, walking, Zipcar, and ride-sharing.