The character of the Yale campus is felt in and defined by its open space as well as by the quality of its buildings. These landscape settings require a focused, intense stewardship to maintain their special role in life at Yale.
– Yale A Framework for Campus Planning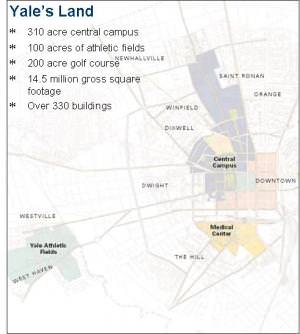 Yale's open spaces, courtyards, gardens, sidewalks and athletics fields are integral features of the campus community. Yale's current land use practices clearly emphasize the aesthetic nature of the landscape from the openness of Sachem's woods to the privacy of its college court yards.
Yale land also supports the University's built environment, which plays a central role in helping achieve our mission to "advance, disseminate and preserve knowledge." Recognizing this role, campus building uses include: residential academic administrative, commercial, medical and research laboratory uses.
Central to the construction, preservation and maintenance of Yale's urban landscape is the Grounds Maintenance staffs who are responsible for the care of all lawns, gardens, and trees. Consisting of 35 employees, the Grounds Maintenance Department is divided into three sub-departments: Central Campus, Medical Campus, and Athletics.
Yale's land use and management impacts the local ecosystem through its use of water, landscaping applications such as pesticides and fertilizers, campus planning, and building choices, and storm water management. Yale recognizes the need to maintain a healthy relationship between its vibrant campus and the natural ecosystem within which it exists.