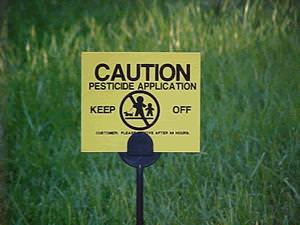 It is the policy of Yale University to practice Integrated Pest Management (IPM) as a means to control unwanted pests on all Yale grounds. As defined by the U.S. Environmental Protection Agency, IPM "is a long-standing, science-based, decision-making process that identifies and reduces risks from pests and pest management related strategies. It coordinates the use of pest biology, environmental information, and available technology to prevent unacceptable levels of pest damage by the most economical means, while posing the least possible risk to people, property, resources, and the environment. IPM provides an effective strategy for managing pests in all arenas from developed agricultural, residential, and public areas to wild lands. IPM serves as an umbrella to provide an effective, all encompassing, low-risk approach to protect resources and people from pests."
Yale University avoids routine pesticide applications by utilizing knowledge of pests and the local environment which allows effective monitoring of plants and action thresholds. By practicing IPM, Yale University aims to minimize risks associated with landscape pests and pesticides for the entire campus.
Yale University does not use one single pest control method, but rather follows the following four-tiered approach:
Monitor and Identify Pests: Not all insects, weeds, and other living organisms require control. Many organisms are innocuous, and some are even beneficial. IPM programs work to monitor for pests and identify them accurately, so that appropriate control decisions can be made in conjunction with action thresholds. This monitoring and identification reduces the possibility that pesticides will be used when they are not needed or that the wrong kind of pesticide will be used.

Set Action Thresholds: Before taking any pest control action, IPM first sets an action threshold, a point at which pest populations or environmental conditions indicate that pest control action must be taken. Sighting a single pest does not always mean control is needed. The level at which pests will either become an economic threat is critical to guide future pest control decisions.

Prevention: As a first line of pest control, IPM programs work to manage the landscape to prevent pests from becoming a threat. This includes analyzing existing landscapes and identifying key plants that are most prone to insect and disease problems. Identifying problems such as improper drainage, compacted soil, inadequate or overabundance of sunlight and avoiding disease prone plants all allow for a successful IPM program. Landscape designs that consider human interaction with the landscape and "right plant/right place methodology" are essential to the success of IPM programs.

Control: Once monitoring, identification, and action thresholds indicate that pest control is required, and preventive methods are no longer effective or available, IPM programs then evaluate the proper control method both for effectiveness and risk. Tactics can take many forms including doing nothing, removing the problem plants, installing resistant plants, applying biological control options and treating with synthetic pesticides. Less risky pest controls are considered first, such as pheromones to disrupt pest mating, or mechanical control, such as trapping or weeding. Pesticide applications are made as a last resort only after other methods have been considered and evaluated.
Connecticut State Requirements
Yale University follows all Connecticut State regulations, certifications and reporting requirements for pesticide applications.
Any person who directs, recommends or supervises the application of pesticides must obtain their CT State Supervisory Certification.  Supervisors are also required to submit an annual pesticide use summary report to the Connecticut Department of Energy and Environmental Protection.
The certification of supervisors and enforcement of pesticide use as specified in the directions and on labels ensures that pesticides are used properly on Yale's campus. For further information on the Supervisory Certification process and reporting go to: http://www.ct.gov/dep/cwp/view.asp?a=2710&q=324302&depNav_GID=1712
As required by the state of Connecticut, any outdoor application of pesticides at Yale University is accompanied by signage notifying the public of the pesticide application. The sign will contain the following information:
The words "Pesticide Application" in bold letters of at least thirty-six point type.
The date of application.
The name of the applicator business or property owner.
The statement "This sign must remain for 24 hours after pesticide application."
As you use Yale's open spaces and gardens for recreational uses please be aware of the following signs and use caution when playing, sitting and eating in areas that have pesticide application notices.