The Global University Climate Forum (previously Global Climate Coalition) is a network of student teams from universities around the world who collaborate on initiatives that promote sustainability at their home institution. As members of the Forum, student teams propose implementing measurable initiatives that reflect the three priorities of sustainability – people, planet, and prosperity. Teams post monthly updates regarding progress of their program's implementation, and are invited to share their initiative and experiences with each other at the Global Climate Coalition Conference. Global Climate Coalition Conferences are hosted in conjunction with United Nations Conferences on sustainable development.
The first Global Climate Coalition Conference occurred in December of 2009 when fifteen teams from universities around the world convened at the University of Copenhagen to present their initiatives. The GCC Conference occurred in conjunction with the UN Climate Change Conference of Parties in Copenhagen (COP15), and was established by Yale University President Richard Levin and University of Copenhagen President Rector Hemmingsen.
Global Climate Coalition Conference 2012 and Rio+20
On June 19th, 2012 student teams from six different continents and fifteen universities convened to participate in the Global Climate Coalition Conference in Rio de Janeiro. Participants then attended the United Nation Conference on Sustainable Development, Rio+20, from June 20-22. View a complete list of participating schools and project summaries. This event was made possible in part by funding from the Yale Climate and Energy Institute, Fundação Getulio Vargas, and the UMass Boston Center for Sustainability and Governance.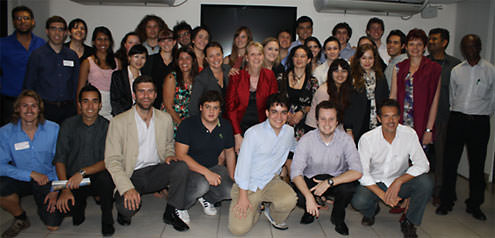 Post Rio-Developments
In the aftermath of the Coalition workshop in Rio, student teams implemented their projects on campuses around the world. They reported their successes and challenges along the way with the aim of supporting one another. The Australia National University team raised over $7 000 with their Move Out Recycling initiative and the Yale School of Forestry and Environmental Studies team diverted 77 pounds of reusable items from the landfill with a similar project. The University of Brawijaya team liaised with government and civil society to promote eco-tourism in Bajul Mati village, Indonesia, while students at Yale College ran a successful solar energy education course. These are just some highlights! Please refer to the individual team pages for more information.
The Coalition is in the midst of organizing its next workshop and soliciting a new round of proposals from students interested in sustainability. Watch this space for updates!