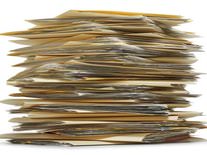 Yale University committed to reducing paper use by 10% in the Yale Sustainability Strategic Plan 2013-2016. We exceeded this goal with a 36% reduction by 2016. Help us continue this trend as we move forward using resources as wisely and efficiently as possible. 
This goal did not intend to eliminate paper; but promote wise use. Paper production, distribution, use and disposal require large amounts of energy and raw materials. Wise use suggests streamlining systems through efficient tools (i.e. online platforms) to minimize unnecessary use and waste. Choosing recycled content paper made by companies that support responsible forest management further contributes to wise use.
Use the resources below to help us stay on track with paper reduction university-wide. 
---
Note-Taking
How can I take notes electronically?
Solution
If possible, consider taking notes using a tablet or laptop.
Tools to consider
Through programs such as Microsoft OneNote and EverNote, you can store, share, and sync notes across devices. These programs allow users to collect notes, web clips, files, and images and store them on the cloud, so they are accessible from any device, including desktop computers, laptops, tablets, and phones. Tip: Lynda.com (an online training service free for Yale employees) offers in-depth training on both of these tools.
Collaboration
How can I collaborate with colleagues electronically?
Solution
Use a shared network drive or cloud-based program to share documents.
Tools to consider
Through Box at Yale, you can store files in the cloud and share files with others in the Yale community.
In Outlook, you can create, share, and assign tasks with colleagues. 
Meetings
How do I host a paperless meeting?
Solution
Circulate materials in advance and let participants know you will not provide hardcopies.  Encourage attendees to print only what they will need. 
Tools to consider
When possible, use a projector and laptop to display the agenda or important documents during meetings to eliminate printed copies.
Encourage participants to use their laptop or device to take notes electronically and refer to previous emails and notes.
Use a network drive or Box at Yale to share files, so meeting participants can access relevant files on their laptops during meetings.
Conferences and Events
How do I host a paperless conference or event?
Solution
Provide online registration. Distribute meeting agendas and materials online or via email. 
Tools to consider
Event planning and management tools such as Active Network support attendee management, speaker and exhibitor management, and mobile event management.  For example, attendees can register and submit payments for conference fees online. With mobile apps, attendees can use their device during the conference to view agendas, download session content, and interact with other attendees. Conference organizers can communicate with attendees prior to the event (e.g., to send agendas and info) and after the event (e.g., to conduct online surveys).
Guidebook allows event organizations to connect with their audiences on their mobile devices; event participants can access conference agendas and materials through the Guidebook smartphone app.
Communications / E-newsletters
How can I share news and information electronically?
Solution
Send newsletters and information via an email distribution list. 
Tools to consider
Mailchimp and Constant Contact are free services for email marketing and e-newsletter distribution. They allow users to design professional-looking emails with customizable templates and drag-and-drop editing, manage email distribution lists, integrate with social media sites, and analyze results (e.g., track opens, clicks, forwards, and more). View how many people opened an email and see which links they clicked.
LinkedIn Groups allows users with similar interests to share information.
Yammer is a Yale-specific social networking platform that facilitates discussion between community members.  Create "groups" through Yammer for tips and idea-sharing.  A Yale email enables you to join Yale groups, receive notifications, and follow topics.
Minimizing Printer Waste
When I do need to print, how can I minimize my impact?
Solution
Only print page(s) you need, instead of an entire document. Increase margins and reduce font size. Printing in black and white is preferable; color toner is more expensive and has a greater environmental impact than black.
Tools to consider