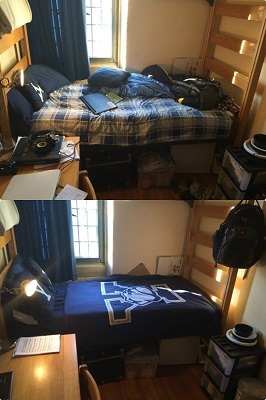 The 2017 Declutter-Destress-Donate Campaign will take place February 28 - March 10! We encourage you to reduce waste, take a breath, and make a positive difference.
Decluttering can help alleviate stress and increase your ability to focus on work.

Clean or organize your space, take things home over spring break, or donate items in a donation bin located in your residential college or workspace.

Donated items will be sent to Easter Seals Goodwill.
This program is a collaboration between the Yale Office of Sustainability, Being Well at Yale, and Student Wellness. 
For more decluttering tips, check out the ZenHabits blog: http://zenhabits.net/pare/.
---
Donation Drop Off Locations
New Haven, CT
Yale Residential Colleges & Graduate Housing
221 Whitney Avenue
Kroon Hall, 195 Prospect Street
301 Prospect Street
333 Cedar Street 
25 Science Park 
Yale School of Public Health, 60 College Street 
Orange, CT
West Campus Conference Center 
---
Worn Wear Tour Clothing Swap
You can also donate clothing, clothing accessories, and books that have been lightly used and are clean and in good condition to our clothing swap, March 6, 11am – 2pm, at Ingalls Rink.
Participants may drop off items at Ingalls Rink starting at 9 am. If you don't have items to donate, you can still participate in the clothing swap, taking 5 items or less per person. If you donate, you can take an equal amount to what you donated – Bring a bag, take a bag! All remaining items will be donated to Easter Seals Goodwill.
---
Do you have university supplies that you want to exchange or donate to another department?
Eli Surplus Exchange is on an online tool designed for the Yale Community to encourage the purchase, sale, or exchange of furniture, lab equipment, or other items. Among the items currently listed are office supplies, unopened chemicals, furniture, electronics without an HD, and lab equipment . Many of these are available for free.
The site was designed for easy use and navigation, and is open only to Yale affiliates. Users need to log into the Central Authorization Service to purchase or exchange items. The website is meant for department exchanges only.