Tucked away on Temple Street, sandwiched between St. Mary's Church and the Farmington Canal trail, there's a garage door. Walking by it, you'd never expect that on the other side, a team of undergraduates is working to build an all-electric racing car.
That team is Bulldogs Racing – a group of 31 undergraduates advised by 3 faculty members who build race cars and race them around the country. We sat down with Taha Ramazanoglu, Yale College '17, to learn more about what he and his team do in the workshop.
Yale Office of Sustainability: Could you give us a quick overview of what Bulldogs Racing does here?
Taha Ramazanoglu: Bulldogs Racing is the Yale University chapter of the American Society of Automotive Engineers (SAE). It actually started as a mechanical design seminar in 2007. That year coincided with the first formula hybrid competition, so they decided to run the class to build a car for that competition. After that year, it evolved into this club.
The overall aim is to build cars that will race at the Formula SAE events that are put together by the society. Bulldogs Racing, given our resources and manpower, generally works on a two year design and build cycle. It gives us more time to think through the car and have a stronger design and presence at the competition.
OOS: So where do you compete?
TR: There are a lot of competitions around the world. This year, we're going to be competing in Formula Hybrid's All-Electric category, as well as the Formula SAE electric in Nebraska, as well as the Formula North in Ontario, Canada. Once you build a car, you can race it as much as you want that year, so we figure if we build a car, we may as well race in every competition we can, including all three all-electric competitions in North America that we can access. There are more in Europe, but we're not able to ship the car and all of our team there to compete.
OOS: This is the first year Bulldogs Racing has done an all-electric vehicle. Before, you were specialized in the hybrids and doing very well – what was the motivation for competing with a different sort of car?
TR: The motivation had a few roots. Firstly, the hybrid system, though we have a lot of experience with it, is extremely complex. You have to have an internal combustion engine and an electric motor drive on the same axle and they have to talk to each other so that when you press the gas, you get a smooth delivery of power. This is incredibly complex to program into the brains of the electric and the gas motor. A lot of teams, ours included, had a lot of issues with their drive trains.
With the electric motor, there are a lot of systems which come along with the internal combustion engine that you don't need to deal with. The gas tank, the exhaust system, air intake, combustion mapping, maintenance…by going all-electric, we're taking all of those components out of the system and simplifying it.
More than anything, we were curious about this emergent technology. We decided that if we wanted to learn more about it, we should just bite the bullet and go all in. We've learned a lot – you need to understand the theory behind it and then put it into action. If you get something wrong, there's very physical and tangible feedback to let you know about it.
OOS: How far along are you in making this vehicle?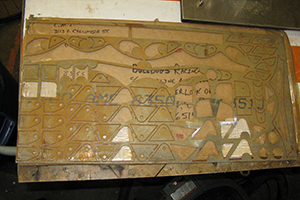 TR: As for design, about eighty to eighty five percent of this car exists in a computer environment. In terms of manufacturing, we're starting to hold 12-15 hours of shop sessions per week to start putting everything together. A lot of the components of the car are made at Yale. This acrylic piece was laser cut in the Center for Engineering Innovation and Design and machined at the shop just downstairs.
OOS: So most of this is made at Yale?
TR: Yes. We didn't make the frame, or the electric motor, or the batteries, but apart from that, nearly everything is made on campus. The frame was designed here, but we had a professional shop in Hamden do the welding. Though we can weld here, that's one part that cannot fail, so we wanted a professional to work on it. But we'll still need to put tabs on it so we can mount everything on the frame, and we'll weld all of that on. Then, the motor has so many low-tolerance parts that we'd have to spend a ton of time testing it, and we wouldn't really get much out of that. Plus, in terms of safety, the battery box can supply up to 600 amps at 300 volts.
OOS: Isn't that enough to power some labs at Yale?
TR: Yeah. So Environmental Health and Safety is very concerned about that side of it, as they should be.
OOS: Why is this piece three different colors?
TR: Oh, we 3-D printed it at the CEID and the printer ran out of filament. So we had to change colors midway through to do the whole thing. (Laughs). The color doesn't matter, so it works fine.
OOS: You do a lot of outreach with alumni. Any fun stories to share?
TR: A friend of mine, who graduated from Yale back in 2012, worked at the CEID postgrad and worked with us. He's currently at medical school in Texas. But he's still in the group we use to text each other within the team. We were trying to get a team meeting going on, and he chimed in and ordered pizza for us to get everyone to come in. It was awesome – we're really making lasting connections here, and everyone's keeping in touch.
Also, last year when we had the door open one day working in the garage, this guy in a Yale hat walked by. He came in, asked what we were doing. Turned out he was a School of Management student, and also a lawyer. He came in and talked, and got excited about it. He helped us reach out to companies so we could get our foot in the door for sponsorships.
We're trying to build both a race car and an engineering community here. It's a great experience to be a part of. Once the chassis came in, everyone was so excited. It was something they could see. One of the freshmen had spent hours doing simulations for this part, running optimization software, but now he can hold it. It's such a powerful experience.
OOS: You've still got your hybrid car here, with the electric motor out of it – what are you going to do with it?
TR: It's really useful to have, because we know this car works. So we can train drivers on it and let them learn how to drive before they try out the electric vehicle. We can switch out some parts, like the dashboard or new data collection systems, and troubleshoot much faster.
OOS: So when can I drive one?
TR: The old car, as soon as the snow melts; the all-electric, we're hoping for the end of March!