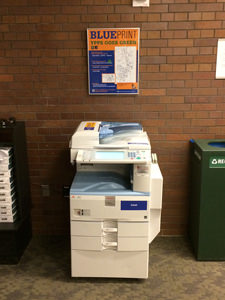 Yale Printing and Publishing Services (YPPS) has undertaken a suite of initiatives to make its operations more sustainable, in support of the Yale Sustainability Strategic Plan 2013-2016. These initiatives include using sustainably produced paper and energy-efficient printers, installing software to manage and reduce printing, and developing innovative, sustainable products and services.
For its printing services, YPPS offers a range of paper products that are certified by the Forest Stewardship Council (FSC) as produced from responsibly managed products. The FSC traces products from forests through the supply chain and provides certification for companies involved along the Chain-of-Custody (C-O-C). YPPS has been officially re-certified by the Rainforest Alliance as an FSC C-O-C vendor and 60% of the paper offered by YPPS for its printing services is FSC-certified. In addition, 74% of YPPS's in-house stocks contain recycled content.
YPPS also supplies printers and copiers on campus. Through a program known as BluePrint, YPPS maintains 57 multi-functional devices in the undergraduate residential colleges, 56 multi-functional devices for graduate students in professional schools (Art, Divinity, Forestry & Environmental Studies, Law, Management, Nursing), and approximately 1200 multi-functional devices on a rental basis to other offices and departments on campus. In total, YPPS owns and maintains approximately 1300 multi-functional devices on campus, all of which are Energy-Star certified. In the residential colleges and professional schools, YPPS supplies 30% recycled content, FSC-certified paper for all printers. In July 2011, YPPS set printer defaults to duplex and altered the pricing structure for single/double-sided printing from $0.07 for a single side and $0.06 for a second side to $0.10 for a single side and $0.02 for a second side. These changes dramatically increased double-sided printing for all students by 71%.
Yale's Information Technology Services (ITS) has installed the PaperCut software on computers managed by ITS. PaperCut, which is replacing Uniprint, enables monitoring and reporting of paper consumption figures and trends. PaperCut software and Prox card readers have been installed on all multi-functional devices in the professional schools and on some devices in the undergraduate student printing clusters; the remaining undergraduate locations will be completed this summer. With the new software, print jobs will be sent to the "Blue Print Global Queue," so students can print from any YPPS printer in the residential colleges as well as all of the professional schools.
PaperCut will reduce printing campus wide; the initiative is not only for student printing but includes University departments as well. This software is part of the Yale Sustainability Strategic Plan 2013-2016. YPPS was instrumental in obtaining PaperCut software for ITS and the University. YPPS has seen significant cost savings in every department where PaperCut has been installed to date by eliminating wasted print jobs (i.e., print jobs that are sent to the printer and never picked up). Jim Mathewson, Manager of the BluePrint Printing & Copying Program at YPPS, said, "The PaperCut initiative and BluePrint branding support the university's sustainability initiatives."
Another service becoming increasingly popular each year is YPPS' electronic record retention program. YPPS can scan historical paper files and convert them to searchable PDF files. The School of Management utilized this service to convert 18 boxes of paper files into a single CD which eliminated the need to physically move these 18 boxes during the transition from Founders Hall (135 Prospect St) to Evans Hall (165 Whitney Ave).
Jason England, a graphic designer and the FSC-Coordinator for YPPS, continues to look for other ways to green YPPS. England worked with an outside vendor to produce biodegradable bags for delivering products. YPPS also re-uses packaging; for example, brochures might be wrapped and delivered in a copy paper box. England, who is also responsible for marketing and new business development for YPPS, also plans to create notepads from miscellaneous surplus paper, in an effort to fully use paper supplies and reduce waste. "Being a sustainable printer is much more than double sided printing! We have a duty to deliver our customers information in whatever media format necessary. By being conscious of our environmental needs, we are able to relay these messages as sustainably as possible," said England.
For more information about sustainability at Yale Printing and Publishing Services, contact Jason England at jason.england@yale.edu.