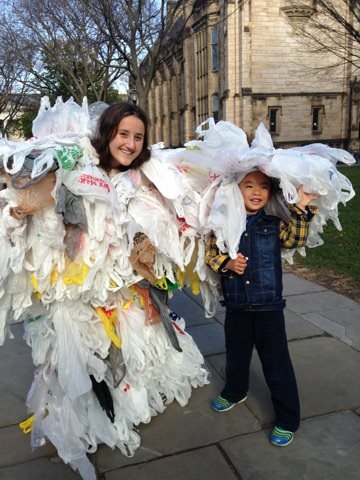 Last Sunday was America Recycles Day, a national initiative of Keep America Beautiful.  Keep America Beautiful strives to inspire and educate people to take action every day to improve and beautify their communities. The organization imagines "a country where every community is a clean, green, and beautiful place to live." As a part of their efforts, they organize America Recycles Day, carving out a day to educate people on recycling in their communities and encourage pledges to adopt better recycling habits.
Yale University's Sustainability Service Corps, a student organization focused on expanding the culture of sustainability throughout Yale College, participated in the initiative. Armed with a quiz on recycling habits and a blob-like costume made of plastic shopping bags, they tabled on Cross Campus Sunday afternoon and talked to other students about what can and can't be recycled in Yale's Single Stream Recycling. They also offered more in-depth information about the energy costs associated with waste, encouraging students to think about both upstream and downstream effects of waste.
Yale University has single stream recycling, meaning that all recyclables can be put in the same bin and are sorted further down in the process. In fiscal year 2015, Yale had a 41.1 % materials waste diversion rate via reuse, recycling, and composting programs. By the end of the 2013-2016 Sustainability Strategic Plan, Yale hopes to reach a 50% diversion rate. Yale EHS also runs universal waste collection programs to recycle unwanted electronics.
Learn more about Yale Single Stream.