On March 29th, the Yale Sustainability Service Corps (SSC) celebrated Earth Hour, joining people across the world in a pledge to turn off their lights from 8:30-9:30 p.m. in order to raise awareness for energy conservation.
The event began early in evening and brought together  numerous campus groups to highlight their programming, including Project Bright, Fossil Free Yale, Environmental Film Fest at Yale, Roosevelt Institute Center for Energy and Environment, Bulldog Sustainability, Club Geo, and Yale Dining, The SSC served food from Miya's sushi, Claire's, and Elm City Market.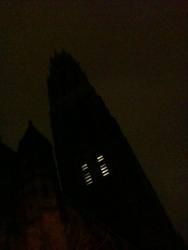 At 8:30 pm,the lights in Harkness Tower were dimmed for the entirety of Earth Hour. During this time, there were student performances from spoken word group Teeth and Word followed by music from Tangled Up In Blue in the Dwight Hall Chapel.
Despite it being a dark and stormy Saturday night, there was an excellent turnout of around 200 students. Carlos Gould, a junior in Trumbull College at Yale and the Team Leader for the SSC Energy Squad said, "We are thrilled with the support we received throughout the event and look forward to an even bigger turnout next year!"