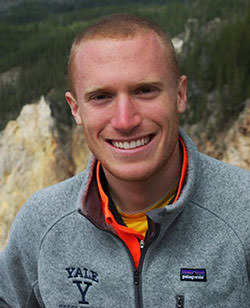 Ryan Laemel, Yale College '14, started work as a Woodbridge Fellow for the Office of Sustainability this week. "I am excited to be working for such an important branch of the University," said Laemel. "As the state of our shared environment declines," he continued, "it's essential that institutions of higher education, like Yale, lead the charge toward a sustainable future, so I am thrilled to return to my alma-mater and work with a leader in campus sustainability." In 2012 Yale was named one of the top ten "Coolest Schools" in America for environmental stewardship, by the Sierra Club, the nation's largest environmental non-profit. Laemel will be taking on responsibility for many of the Office's communications, outreach, and project management efforts.
Laemel, originally from Orange, Connecticut, "grew up five miles as the crow flies from New Haven" and considers himself a lifelong enthusiast of the University. "When I was a boy, my grandfather, who was not affiliated with the University but nonetheless a supporter, would bring me to the Peabody on weekends." It was in the collection of minerals at the Yale Peabody Museum of Natural History where Laemel first became mesmerized by earth processes and the environment. "I remember perusing the minerals," he said, "wondering and theorizing how each one had formed." He did not know then, however, that he would return to the same room as a high school senior to receive a scholarship from the Yale Club of New Haven to attend Yale College.
As a Yale undergraduate, Laemel lived in Timothy Dwight College, which he claimed to be "the best residential college at Yale," though he admitted that all Yale College students would say the same about their residential college. During his four years at Yale, Laemel studied and conducted research in his major, Geology and Geophysics. His thesis looked at how glaciers erode mountain landscapes in the Patagonian Andes based on rock samples he and his colleagues collected in the region. Witnessing the environmental degradation of Chilean Patagonia confirmed Laemel's decision to work in the environmental sector. "In Patagonia I saw receding glaciers and signs protesting a hydroelectric dam proposed for one the area's most pristine rivers ­— powerful manifestations of society's negative impact on the environment that I believe warrant action."
Laemel, a four-year member of the Varsity Men's Cross Country and Track and Field teams, spent much of his time at Yale running through the trails of East Rock, West Rock and Maltby Lakes. He was captain of the Yale Men's Cross Country team his senior year. In addition to his studies and athletics, Laemel served as a student assistant to the Office of Sustainability and provided counsel to Bulldog Sustainability.
In his senior year, Laemel learned about the Woodbridge Fellowship from Yale Professor Edward Kamens, a unique opportunity for graduating seniors to gain valuable work experience in their area of interest while learning how an institution of higher education and its administration function. Professor Kamens conducted Laemel's alumni interview when he was a senior in high school. "Professor Kamens and my residential college Master and Dean recommended me for the Fellowship," Laemel said. "After interviewing with the Office of Sustainability," he continued, "I knew I wanted to work with the individuals there to accomplish Yale's mission of environmental stewardship – I was very happy when I received an offer."
After a summer of backpacking in Yellowstone National Park in Montana and traversing the Presidential Range in New Hampshire, two of his favorite wild places, Laemel is just getting started at the Office of Sustainability. "I have a lot to learn. But I hope to build on the Office's past work and success, especially that of the previous Fellow, Sharon Hsu, soon." On his goals, Laemel said, "I would like to improve the Office's presence online and on campus, and work with Yale Facilities to improve upon existing projects and create new ones that positively impact the Yale community."
The Office of Sustainability is excited to have Laemel join their team. Ginger Chapman, Director, said, "His interests, enthusiasm and experience made him a perfect candidate for this position. We look forward to Ryan's participation in our office as we work together towards a more sustainable Yale!" Laemel expressed similar enthusiasm for starting at the Office. His last words about starting work best show his eagerness to get the ball rolling: "Sign up for our newsletter!"