On Monday, March 6, Yale will be hosting Patagonia's 2017 Worn Wear College Tour as part of a full-day extravaganza focused on extending the life of products to keep items out of the waste stream. Events are free and open to the public.
As part of their nationwide travels, the Patagonia Worn Wear repair team will bring their truck, Delia, to Ingalls Rink, 73 Sachem Street from 11 a.m. to 6 p.m. The team can fix about 40 garments per day of any brand, free of charge. The repairs are first come first serve, and the team will only take one repair per person. Patagonia will also be selling used gear at marked-down prices.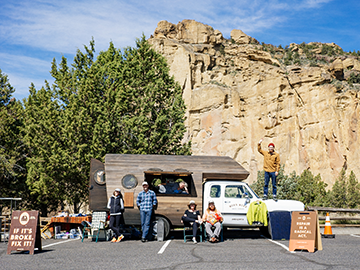 The extravaganza will consist of a Repair, Reuse, Repurpose Fair from 11 a.m. to 2 p.m. in Ingalls Rink. The fair will host over 10 activities including a clothing swap, a bike repair station, and an electronics repair workshop. Tangled Up in Blue, Yale's only undergraduate American folk ensemble, will be performing beginning at noon.
Additionally, there will be a panel discussion featuring Rick Ridgeway from Patagonia, Adam Werbach from Yerdle, a business that helps leading brands develop re-use programs, and Scott Briscoe from the National Outdoor Leadership School at 4:30 p.m. in Evans Hall, 165 Whitney Avenue, room 2410. A light reception will follow. Registration is required.
On Friday, March 3, the Yale Center for Business and the Environment (CBEY) will host a GreenLight ideation workshop, around improving campus culture through reuse. All Yale students are welcome to attend, and funds have been allocated to help implement the strongest ideas generated. Space is limited – register today.
The event is cohosted by CBEY, the Yale Office of Sustainability, and the Post-Landfill Action Network. For more details and a full list of activities, please visit the event website here.